A small study on Mathematical Tiles

Mathematical Tiles in Hampshire
Millions of people a year must pass these by without ever noticing, perhaps recognised by only a few dozen, perhaps this page will increase the number of those passing by knowingly, now. They manage to hide in plain sight, even escaping the notice of building surveyors. How to recognise them and what goes wrong with them, still existing from around Hampshire. Hampshire seems to have more variety of situations than Kent or Sussex, from bank to prison, kebab house to churches, terraced houses to country mansions. As of February 2016, 53 definite examples and 4 possibles in Hampshire and 13 and 2 possible on the Isle of Wight. You are never farther than fifteen miles from an example of mathematical tiling in Hampshire, and if there was a proven example in the Andover area, then more like 10 miles. A uniquely British phenomenon, and if not for the Penryn example , a uniquely English phenomenon.
---
For Heritage Open Days, 8-11 September 2016, I designed a walk and talk on mathematical tiles. 2017 heritage weekend, extending to including Gosport as well.
https://www.heritageopendays.org.uk/visiting/event/mathematical-tiles
https://www.heritageopendays.org.uk/visiting/event/mathematical-tiles-in-salisbury
https://www.heritageopendays.org.uk/visiting/event/mathematical-tiles-in-winchester
https://www.heritageopendays.org.uk/visiting/event/mathematical-tiles-in-gosport
For a followup of a new discovery on that walk in 2016, see 33 The Close Salisbury, below. And followup for 2017 , see Hyde Street , Winchester
Considering 2017 seems to be a year to celebrate Jane Austen. There seems to be a curious connection or coincidence between her and mathematical tiles. Her house in Chawton has one wall covered in them (see below ), her 18th birthday celebrated in Southampton at the Dolphin Hotel has some (see below), the house of a family friend in Alton she often visited has them (see below) and in 2017 a statue of her has been erected in Basingstoke in a street with about 6 or 7 examples of them (see below)
---
01 March 2017, I gave a well attended talk to King John House, Romsey, Wednesday Talks title: Mathematical Tiles in Romsey and Hampshire. http://kingjohnshouse.org.uk/wp-content/uploads/2017-programme-draft-anne.jpg After the talk , we made a new discovery relating to the tiles in Romsey, see below
21 March 2016, I gave a talk to City of Southampton Society
title: Mathematical Tiles in Southampton and Hampshire.
I gave an earlier version of it to the Southampton Science Cafe in February 2015, in place of a scheduled speaker , who could not make it. Southampton Science Cafe talk, part way into this page .

---
If anyone would like to submit their own pics of buildings mentioned below but are beyond public viewing, or anyone aware of other Hampshire examples, not mentioned, or recent changes eg gale damage to ones described here, my email address is towards the end of Part 3.
---


Southampton
Tudor House Museum, Bugle St, Southampton
On a rear wall, beyond the rear door of the banquetting room , turn immediately on your right through a door to the rear of the building and that external door is contained within the wall that has the mathematical tiles on it. Or if not going for a tour of the building, ask for directions to the cafe and the front-desk staff will direct you through the relevant door. Ignore the hanging tiles at the very highest level and ignore the commentary on the audio guide paddles which say these tiles are on the wall next to the facetted bay window overlooking the knot garden. Ignore the patch of replacement surface , where the railings are, don't know what they are, terracotta or brick slips perhaps replacing a patch of collapsed mathematical tiling presumably or bomb blast damage (see 49 Bugle St), but too smooth in texture and too pink in colour.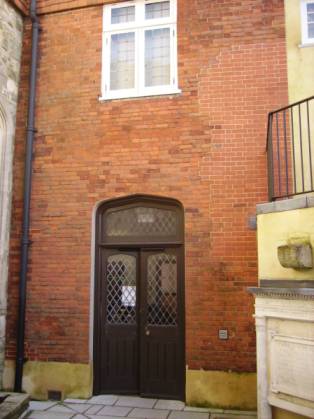 A lot of the identifying/suggestive features except the main one of fully viewing to a side. Perhaps someone could scrape the surplus mortar off the lowest 2 tiles in this pic of the external right side of the door framing. The cracking is along the line of the rear of the tiles, red arrow markers, giving the characteristic saw-tooth profile.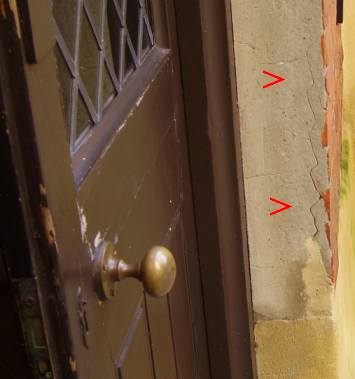 As a USP of this museum is building features , materials and techniques from Norman walls to 21C nitrogen fogging , fire suppression system. It would be nice to see more made of these mathematical tiles. After all, the crack will be letting in water whether there is mortar spread to the tiles or not. I happened to visit coinciding with an architect who liked the conducted tour of the attic and a geologist who enjoyed identifying the numerous differently sourced stone types used in the basement. Incidentally is the square recess in the basement wall, angled upward as a sort of flue, as that section was supposed to be a vault at some time. Was it a sort of early Lamson Tube (using string and gravity there) , as still used in the likes of Sainsbury and Asda supermarkets for secure ferrying of cash, or even a night deposit shute?. A view of the upper window set in the wall, taken from the attic space, showing the edge of one of the tiles.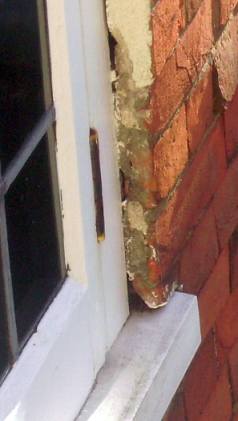 I don't remember seeing this protective nod to MT walls before. Cylinders of cork to protect from ironwork damage, downpipe fixings here. Unfortunately a point of rainwater ingress unless there is sealant behind.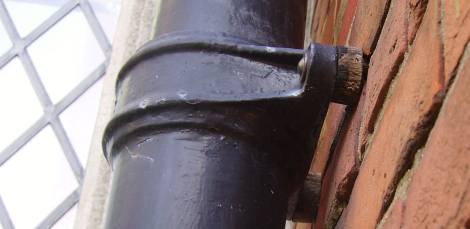 Red arrow showing the front lower edge of a displaced tile or severely warped tile, and 2 arrows to a patch of bulging tiles, failed backing, nail sickness or whatever.


The upper window where a lump of fill has fallen out showing the cut tile for a previous window frame perhaps.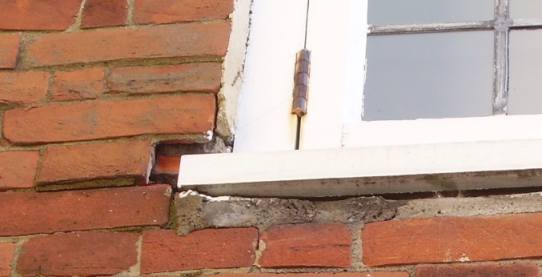 Light single knuckle taping of about 12 "bricks", about 2 had the dull thud of brick and the rest various sorts of slightly reverberant/hollow sounds. So interesting but not conclusive test for mathematical tiles as it depends on the amount of bedding and adherence, if any. An aside. I'm not usually into gimmicks but I quite liked the initial A-V Harry Potteresque disembodied voices presentation for visitors in the banquetting room. A good reminder ,for non astronomers, what the night time light levels were like in earlier centuries. Similarly , with great succes, BBC series Wolf Hall, interior scenes filmed under candle light only.

Albert Rd, Southampton docks area

A new discovery for 2015, on more certain ground than Bugle St. Not in the publically accessible buildings record as MT, The Royal Albert Hotel, Albert Road South, Southampton. The upper faces of two sides and part return on a third face.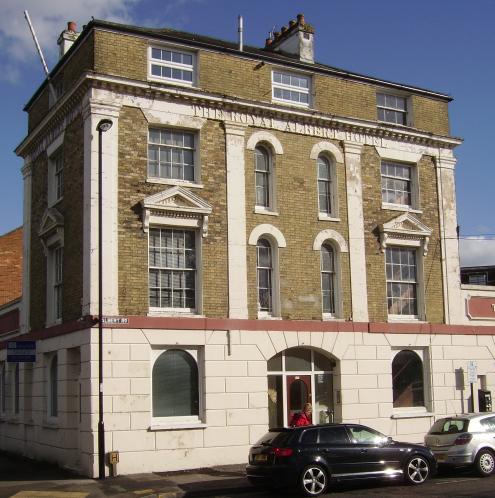 When I veiwed it , looks like there has been lots of slipped tiles previously, but not any gaps. Unsympathetic patches of undyed mortar slapped in. Just two exposed edges of a tile , this one at a window reveal.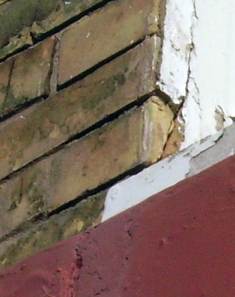 A number of examples of gaps showing behind lower edges to tiles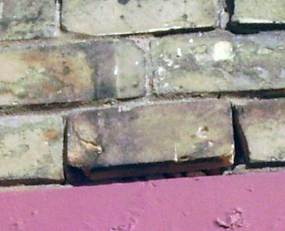 similar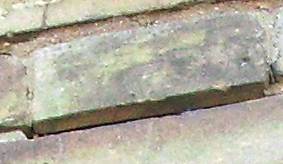 A tile on its progression to falling out someday soon, showing the raked edge no evidence of the phantom core sampler doing his work on these facades (see Romsey below)

Alexandra Hotel, Bellevue Rd, Southampton

This pub has held a secret from the Victorian era. New discovery for 2015 also. Courtesy , not of a phantom core sampler but this time heating and ventillation contractor making a hole through the wall for a vent. Without this clue , not an inkling of evidence for MT on the upper story of this pub. Presumably pilot drilled from the outside , then large diameter coring bit from the inside and dangling through the window, the outside also. Neat hole under the middle upper window. The landlord , aware of some of the history of this pub, was not aware of the tiles . I should have asked him to open a window and give some of them a knuckle tap. The upper story does look a bit different to the middle storey but that could be just due to repointing at different times. Even so if one storey is tile and the ther is brick, even with the same clay, I would have thought over time there would be more difference in colouration and texture and even lichen coverage.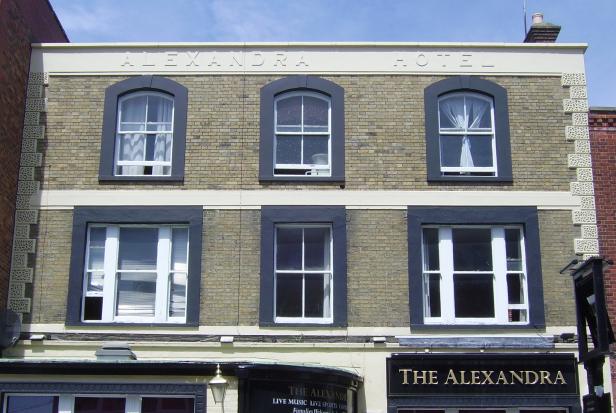 Looking up from the pavement. The curved section is the entry porch roof. The narrow thickness of a tile in evidence, delineated from the backing.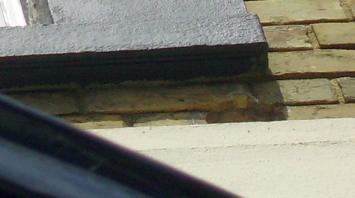 Overexposed view , the pink colour of the material behind probably means red brick, smeared with yellow tile dust.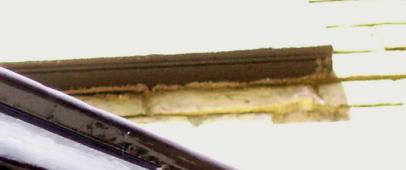 From another angle, the same apeature, as an inch or so above the lower edge then that much thicker than at the true lower edge.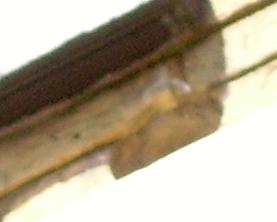 The uppermost coarse is different, lighter coloured, stucco/plaster faux "brick" to cover the working faces of the tiles ?




Next attempt with x3 of camera and x15 of binoculars, straight on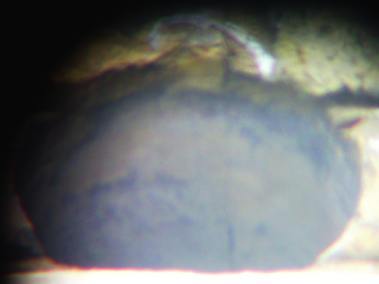 Eventually with a camera with gyro stbilising in the lens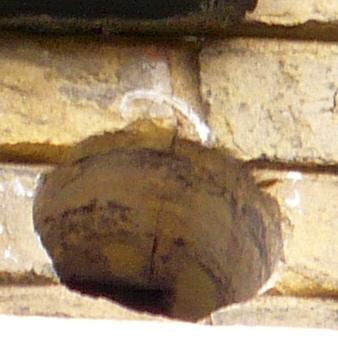 New discovery for 2016, 9 Forest View that leads on to Cement Terrace, Southampton.
Presumably the street was named celebrating the new wonder material of Portland Cement, of the early Victorian era. Why no Kevlar Ave or Teflon Drive or Velcro Street these days ? So not derogatory in the manner of Steptoe and Son, Oil Drum Lane. Viewable tile edges denoted by red <, generally structurally very suspect looking parapet and facade if brick.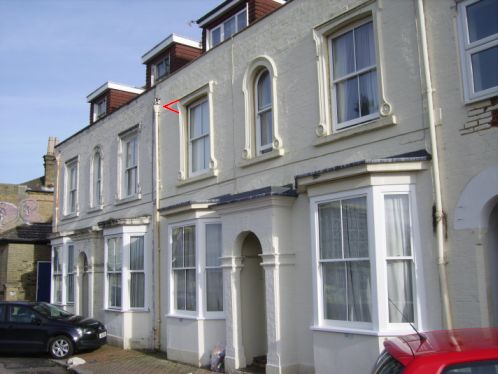 Very rare corner tiles, two of them , lower edges revealed, otherwise to be definitively seen only at Ringwood, Basingstoke and the Singleton Museum.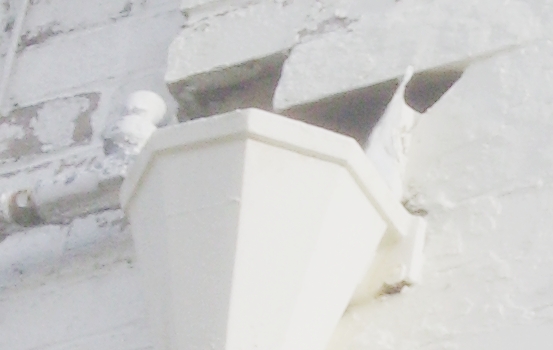 different viewing angle around the downpipe hopper.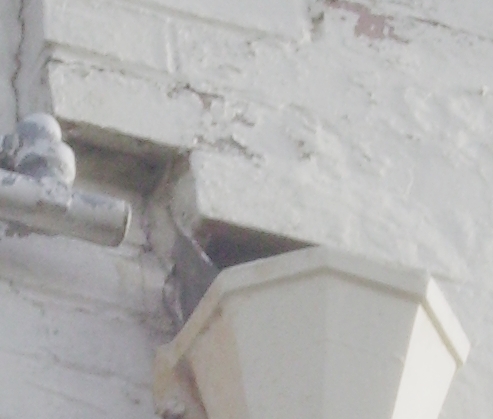 New discovery 01 Feb 2016 so now 5 in Soton, rear of the Dolphin Hotel, High St, Southampton. Another building with a Jane Austen connection, this time in Southampton, see Chawton below for the main connection with her.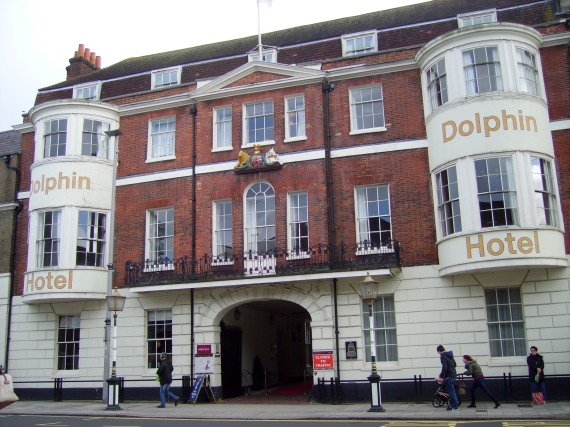 Not the ballroom (her 18th birthday spend there apparently) , some sort of very utilitarian extension at the rear, marked with red V.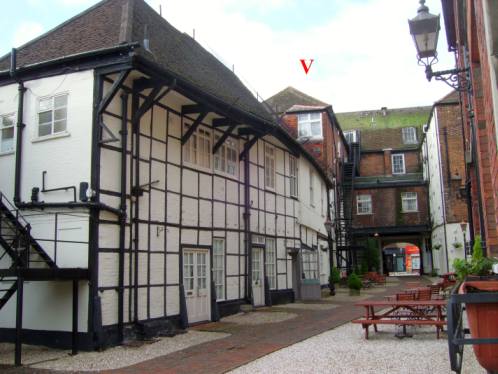 Ignore the hanging tiles on the left, perhaps lost in the war when Holyrood Church was bombed.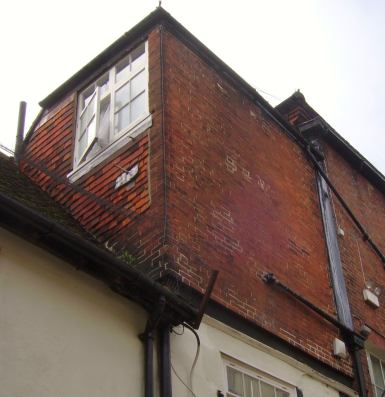 Under the corner ,showing the second instance of exposed corner mathematical tiles in Southampton. All the lower edges to the left face are visible. An exposed lower edge , other than the lowest run, at the yellow V.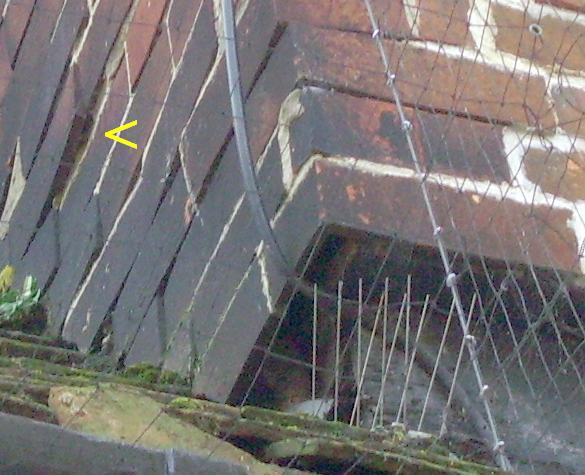 only too obvious slipped ones






One that got away, Lower High Street, Southampton
A surviving white mathematical tile remnant only now to be found in the Archaeology Unit, Melborne St (of Jan 2016 in room 19, low pigeon hole racking , 3 bays in , top recess). Label saying SOU266/06, 1960s backfill (WW2 demolition rubble?) into a vault , accession date of 1989. Original site or building unknown but presumably in Lower High St. Most of the fair face of a stretcher tile, and break in the working face so part of the ledge.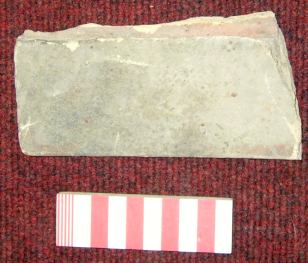 Edge section






49 Bugle St ?
There is nothing I'm aware of in the building records that says the front of this Dutch gable building is mathematical tiles. I'll try giving my evidence, but the whole fun/intrigue of mathematical tile research/detection is its the ability to fool you one way or another with their trompe l'oeil cunning or misrepresentation. Even centuries on the deceipt can remain. I'll never be allowed to excavate into a section of obvious covered-up damage or delve hands on. But if this facade should prove to be mathematical tiles, then it probably means the King's Somborne vicarage frontage is also tile, as also "cobble header" left and right external-angle , header and stretcher external-angle tiles etc. Picture taken deliberately with grazing sun angle, hence shadow. I first "saw" mathematical tiles on this frontage at night with the oblique angled light from the bulkhead lamp PIR unit at the front door. Showing the bulging "cobble" headers of the bricks/tiles, but difficult to film at night. Unfortunately house number 47 projects out 3 foot to the south of 49 so in mid January about noon, not able to get good raking light, I'll return in June about 2pm BST and retake a daylight pic


night view with oblique angled light, gives some impression of the cobble-like appearance, but more apparent in real life.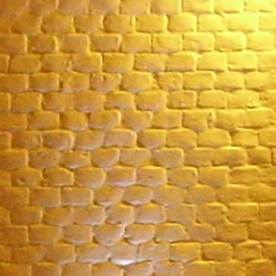 1/ Originally timber-framed and earlier than 17C, so more than a hundred years on and tired front elevation perhaps or in-fashion upgrade. Given historic buildings grading in 1953, before non-invasive/non destructive testing was available (ignoring the phantom core sampler vandal of Romsey and Soton, see below)
2/Painted over , maybe to cover over and disguise a large area of gale damaged/nail sickness/bomb blast tile loss
3/Why would a prestige big house construction use second grade/ reject bricks, see Kings Somborne and Ringwood Old Bank. More so because header bond is a weak form of brick bond, especially to 3 stories, again like Kings Somborne. I would not like to own or live in a 3 story house of simple header bond construction, a vertical crack is far more likely to develop than a bond involving mainly stretchers, especially involved with timber-framing. With the supply of mathematical tiles you rarely had any choice in the matter, most were bowed to some extent. This is a false colour , far exagerated contrast , pic of this painted over "brickwork". Sunlight from top left, deepest shadow lower right of many "bricks".


I've called them cobble header bricks. I'm not aware of any bricks at any time made with this profile, let alone what they would be called. They are not bullnose, cownose or radial bricks. They would probably require 2 part moulds to release the undercut bulge end. But why make a profile that is so slight that only raking sunlight or night light shows the effect (see Somborne pic). And I'm not convinced it is a regular repeated bulge, for a deliberate cobble-like finish, as some have more like a slight cylindrical bowing. More likely to be due to the common flexing of mathematical tiles, in the green pre-leather stage, due to their relatively thin aspect, like all simple clay roof tiles tend to bow , compared to more chunky brick.
4/ The 3 course string courses are not brick , but stucco/ pargetting like the window lintles and "keystone" protrusions. If the frontage was all brick, why build imitatiobn brick stringing?.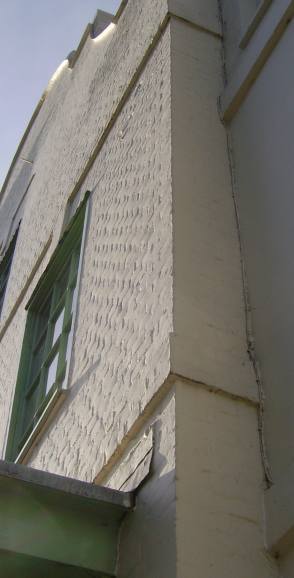 close-up of a non-brick string course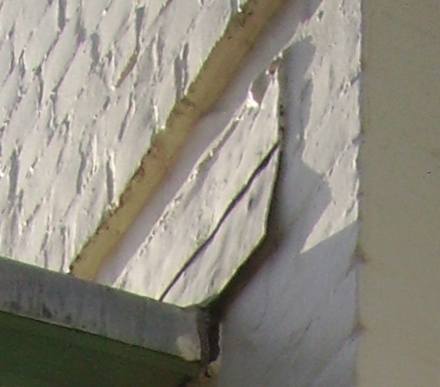 Showing the underside edge of the "string course" . The bucket-handle incising of the stucco/pargetting is not continued underneath. Also the "bricks" of these courses are dead flat. So covering the exposed internal top faces of each top course of a section of tiles, to reduce possibility of a complete loss of tiles in a wind?. The south end of these string courses stop a foot short of the building to the south, for down pipe ? or disguising a gap between properties ?. Also the upper pic shows a nice area of cobbling/dimpling shading to the right of the window. In close up there, the header curving seems one dimensional, not spherical, like very shallow curve double bullnose bricks.
5/ Shallow or covered reveals to the windows, compatible with MT useage.
6/ The "bricks" under the window sills look bogus, perhaps stucco again , covering the upper section of the tiles.
7/ The window boxes have been placed there since the archives pics of this building around WW2 (air raid shelter ). Perhaps they hide the top sections of the tile courses under the window sills.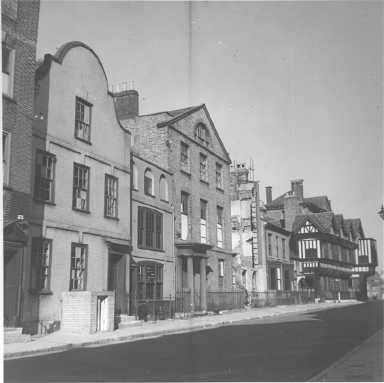 This c1941 pic seems to show 7 or 8 broken window panes, bomb blast of the house between there and Tudor House in that pic, number 55 ?. The stopped "string course" runs and downpipe run is the same in the 1941 pic, also in 1941 fully painted-over brick/tile/stucco surfaces.
8/ When there is a proven example of mathematical tiles in a street there is often other examples, see Alresford, Basingstoke, Salisbury, Upton Grey. Here we have this house a few houses away from Tudor House.
9/ Lead/zinc flashing/flaunching over the window lintles is consistent with tile useage. As putty , grout or mortar would not form a seal against the wood of the window frame.
Talking to the owner in 2016, the very top "Flemmish" facade is definitely brick, the rest of the front material is unknown, assumed to be brick.

Not very interesting as high up and probably modern brown MT examples on the south side of 50 Bugle St, see pound shop Salisbury and Gosport High St and Corries Cowes. The fillet of render is falling away and one fixing face edge may be exposed. No mortar/putty/grout , so not bricks and the fair faces are planar so not hanging tiles.


A new find for 2017, making 6 examples in Southampton. 56 Bedford Place, none of 3 people who work there knew of the tiles.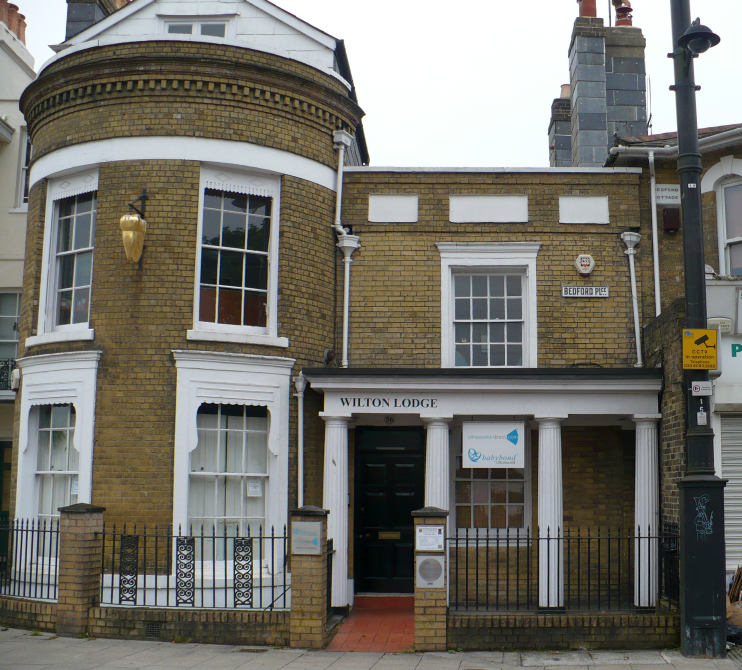 The patch of wall above the columns contained within the 2 downpipes and hoppers. The first slight indicator of possibly tiles, mangled mess of "brickwork" around the hoppers. Then the colour is more uniform and texture is smoother than the surrounding (County of ) Southampton White (yellow) bricks of the Victorian era. Again no mention in the heritage building records of MT on this Wilton Lodge building. And so to the signs of mathematical tiles. Unfortunately the curve of the bow windows blocks the most straight on view of the left edges, but careful camera positioning just allows enough of an angle-in. Green arrows show the backward rake angled faces in a few places (deliberately over-exposed) and also front on in one place where there is missing mortar.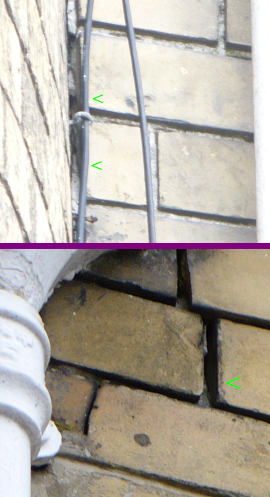 A close-run thing, The old Farm House, Mount Pleasant Rd, Southampton. Looked on the side elevation , nearest the railway and a plain roof tile had fallen away from the nogging under a collar beam. Not the slabby tudor bricks to the left or herringbone above. The green caret marks a nail hole of a modern plain tile, cut down to fit brick-size, the one to its right shows a nibbled lower edge and the next one is laying on the ground, a modern plain tile. Any old builder would have bunged bricks in there to fill up that gap, but presumably nothing now holding what look like bricks in the layers of the nogging panel below that line of modern tile infil, ie not having the depth of bricks to mortar brickbats onto for support. Modern day repointing mortar in that area, but perhaps around upside down mathematical tiles , like on part of the Cloisters pub in Salisbury. Perhaps modern day clipper-sawed down salvaged old bricks to make brick slips, but intriguing, if that tile was not missing there would be nothing of note. Perhaps an old metal rainwater downpipe wore that vertical groove in the wooden beam and the corresponding ,in-line with it, top suspected tile, ie before the days of diamond edged Clipper saws were available .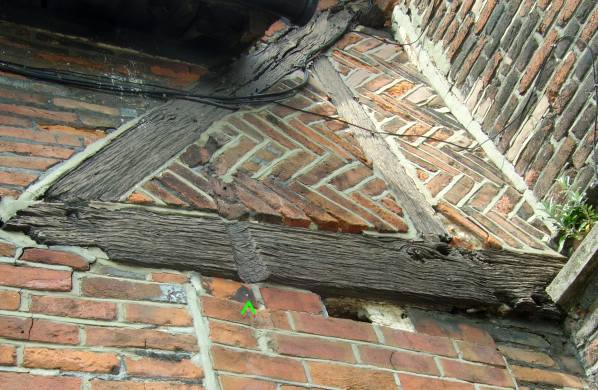 I made an extending monopod to take a closer pic of that hollow with lime mortar showing under the collar beam, where that fallen tile had been. Well at least my monopod worked. Looks like back in lime mortar days someone made a batch of thin bricks, at about 3x plain tile thickness, too wide a ledge for top or bottom of a mathematical tile. As some of those 2-tone yellowish & pinkish bricks are farther down in the panel , they must all be these thin bricks, except the top course. Despite wind-braces on this timber-framing , perhaps it is unwise to nogging-up totally, leaving a sacrificial course under a beam to allow for movement and breaking the odd tile rather than dislodging a whole panel. From architect Gerald Steer, brick slips were used in the Georgian era where there was shallow space over timberwork, no space for full bricks, so maybe those brick slips in the Old Farmhouse could be Georgian rather than modern intrusions.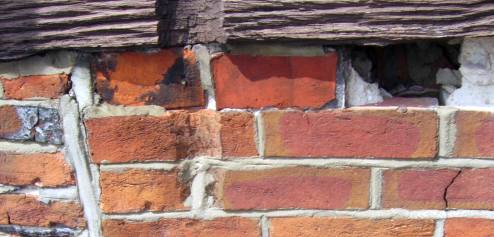 Someone on one of my talks had seen this in construction about 2015. Well it has a lot of similarity of reasoning and purpose and deceipt of Georgian MT, but I somehow don't expect it to last 200 years. McDonalds drive-through on Shirley High St , Soton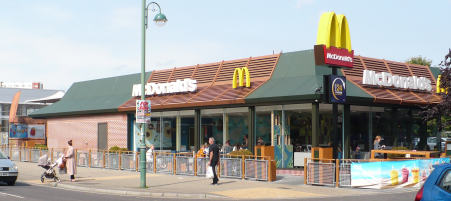 Large pannels of some replicant material nailed to studding and then "pointed" all over. Perhaps some sort of mineral surface moulded over boards, right colour, right texture even if some striations but that occurs with extruded clay for bricks proper. Looks very convincing , but tap with a knuckle and they sound more hollow than MT. They've found a way round disguising the edges problem eg like here http://www.anticoelements.com/installation_files/Brick7-1.jpg Perhaps the stark white grout/mortar will tone down with age.

The only give away I could see on any of the 3 faces to the faux-brick section is this , a batch colour mismatch that can occur with bricks of course , but would become randomly distributed by the time of laying. Not just change of colour of "mortar" but vertical line of bricks "A" different to the staggered intermeshed companions "B" , very slight difference but is there, not just an optical illusion from the pointing colour change in much the same area, at another corner.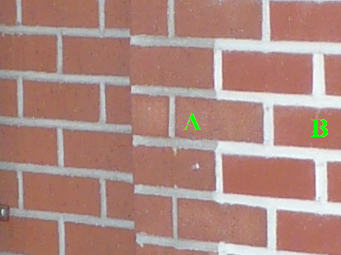 A close-up of a "brick"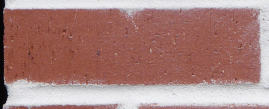 And then post-Grenfell Tower, Vincent's Place student housing tower block in Vincent's Walk , more faux brick. I wonder what the fire-supporting rating of this insulation cladding is. Even the Georgians knew not to use faux brick at ground level and they did not have lorries reversing and careering into their walls, giving the game away. faux brick, Vincents Walk , Southampton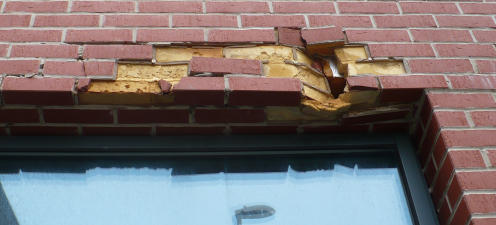 faux brick, Vincents Walk , Southampton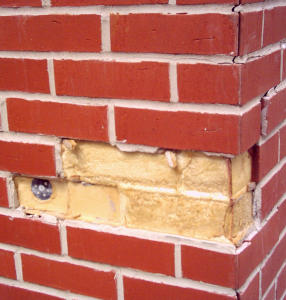 Fareham

Yellow "bricks " at 69 High St, Fareham . Red "S" is where there was a missing tile in 2015 and red "A" is the area I tapped with a knuckle for the sound file (vacant property then)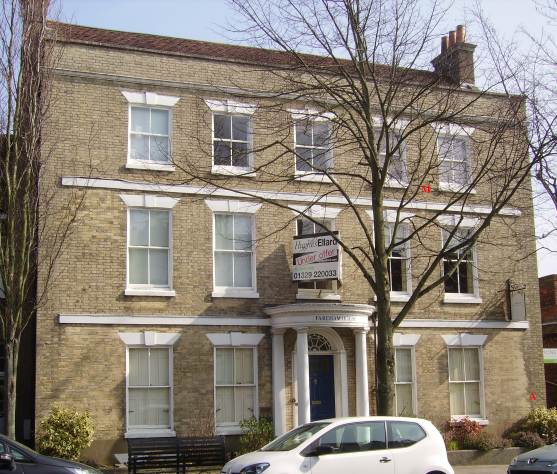 The missing tile position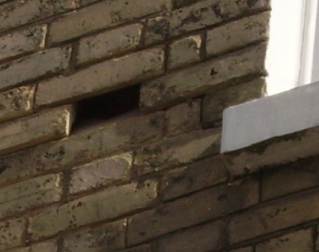 and an overexposed photo that shows the brickwork behind is red. Without photographing I could not see the colour by eye.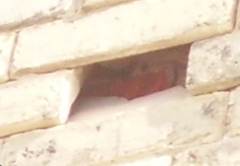 What you don't expect for identifying an architectural feature, a sound file. Tapping one knuckle over about 8 tiles in that "A" area, a hollow sound, more like tapping a small thin wooden box like a wooden cigar box, certainly not the dull sound of tapped bricks.
The sound of mathematical tiles
The return from the right of the front elevation showing the tile edges.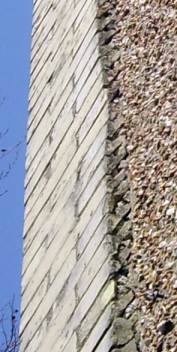 And lower down on the left return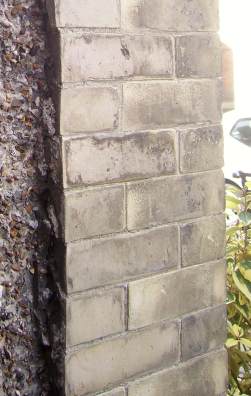 The exposed lower edge of some tiles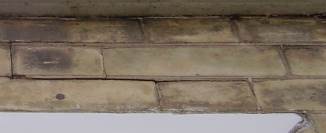 similar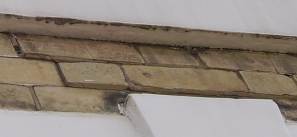 Where someone has screwed some of the slipped tiles, back to the underlying. I don't know what the vertical scratch lines are , something to do with builders aligning replacement slips? There is also a nasty scar over a number of tile faces that look like a skittering disc cutter that fell out of a builder's hands.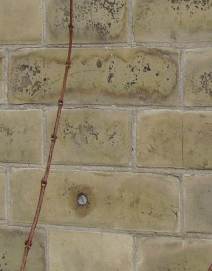 Looking around the side test, courtesy of Alec Clifton-Taylor (1907-1985) , godfather of mathematical tile appreciation, from when he visited Lewes, Sussex for one of his six more English towns TV progs, on BBC2 07 Oct 1981. A quote from him "part of the fascination of these (mathematical) tiles is that they were not only intended to deceive but succeded in doing so, and still do, often most successfully". Mathematical Tiles never appeared on TV since then, not even on Time Team ever, just a modern variant turned up on "Grand Designs" once. Picture from Youtube version of 4/6 program, showing him in an unfortunately uncredited archetectural salvage yard and surrounded by different sorts of mathematical tiles. Anyone else reckoned, with his inability to hammer a nail in straight, he cracked half a second after a film edit point.? He organised the perhaps only ever symposium on mathematical tiles in 1981, time for another one?. Set in Brighton perhaps , the geographic centre of their occurance. Anyone like to email me with an interest in attending such a convention, and I will keep a log of interested persons.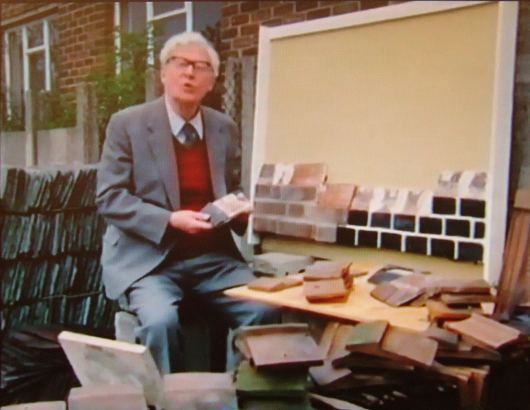 A pixieish Alec Clifton Taylor , getting up close and personal with mathematical tiles at first floor level in Lewes. So often examples are not found at ground floor level, in this Lewes case , he was pointing out the exposed edges.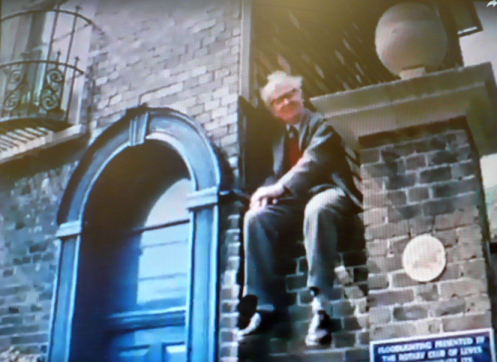 His first English Towns programme in 1978 , he failed to point out the example at 59 East St, Chichester. Mathematical tiles not so much because of their precise irregular thickness and intricate patterning and interlocking arrangement in 3D but the older Georgian meaning of the term mathematical was scientific precision. A bricklayer has to learn how to progress a wall , using sloppy mortar, maintaining a regular structure in all 3 dimensions as he goes. Mathematical tiles just require a flat backing and an ability to draw a few parallel straight and horizontal lines and the tiles take care of themselves , as the layup,in effect, has been done at the tileworks . It would be possible to construct a full "brick wall" from mathematical tiles in one day as they are held in place by nails, mortar is somewhat incidental, and no reason to let the mortar solidify , like proper brick wall construction, before proceeding upwards. They've always been called mathematical tiles. The earliest newspaper reference I've found is two references in the Times , both of 1836, neither report needed any further explanation of the term for its readers, implying the term was in general useage at that time. One was Atkinson of Southwark (close to Eleanor Coade of coade stone operation) , a supplier's advert and the other of 30 November 1836 reporting fallen and broken mathematical tiles blown off the chapel of the Brighton Pavillion in a recent gale.



The physical origin I would go with is fashion for brick came in and these tiles were a way to gentrify or tart-up a tired or failing week elevation to an older building. Perhaps relevant, the Georgian era was the era of follies. Infill of timber framing could be cobb ,clunch, woven oak strips or wattle and daub ,as here featured in Guilder Lane , Salisbury, under perspex cover


or any insubstantial or water permeable material and getting tired. Tiles instead of brick because a shortage of bricklayers then, requiring much more skill than laying tiles and also much less weight if not from foundations and week underlying wall structure. With precision in the tileworks , then it would possible to get very fine mortar lines in the "brickwork" , so suggestive of the most expensive form of bricks , rubbed and gauged, because of the labour involved in fashioning each brick like that. They would seem to be very difficult to make dimensionally and flatness-stable through drying and firing stages, see the ones on Friends Meeting House,16 Colebrook St, Winchester , somewhat warped. The skill was at the tileworks, not where they were hung. Seemingly the required specialised tilemaking art/skill has been lost over the centuries. The Winchester ones of the 1990s from a company in Sussex. On the rear elevation, to reduce wind-driven damp penetration. As a followup see the Preston Candover and Alresford , examples of new precision made tiles of 1990s/2000s, unknown maker identity so far.

Winchester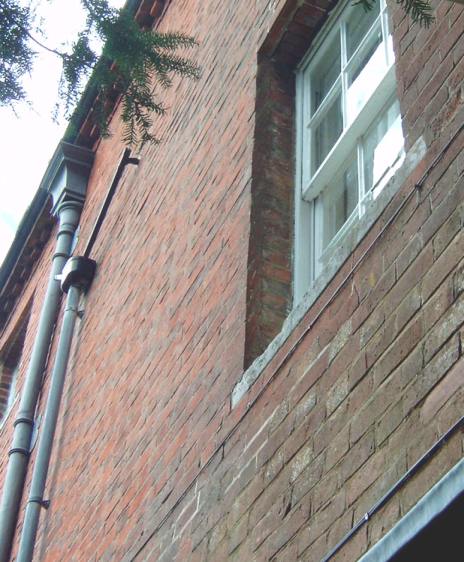 The original tiles above with giveaway tile apearance in the window reveal, and 20C ones below, to the left of the down pipe.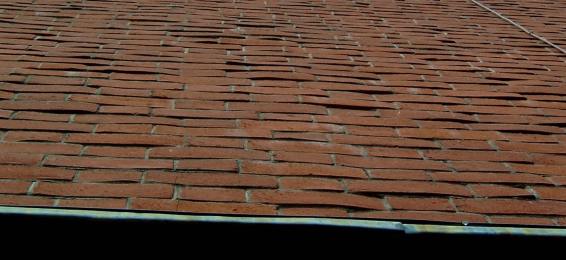 Another Winchester example, suggested a local resident as he'd seen the frontage after a section at the porch had fallen away. As a private house I could not go up and finger tap the wall to hear if a hollow sound, St Johns Croft, Blue Ball Hill.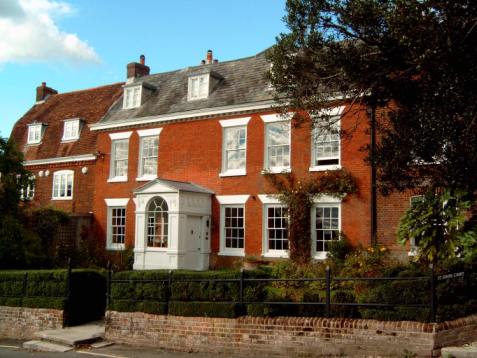 Right side of frontage, hiding behind the down pipe exposed right edges of the tiles and one that has slipped away



Left side and left hand edge of one showing after render had fallen off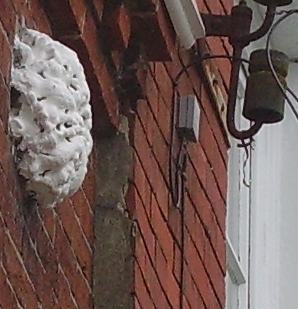 Another revealed section of left edges of tiles, very high up.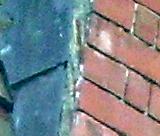 Carlisle House, Formerly Chernocke House, St Thomas St,Winchester, now an architectural practise. 51°3.603', 1°18.942W .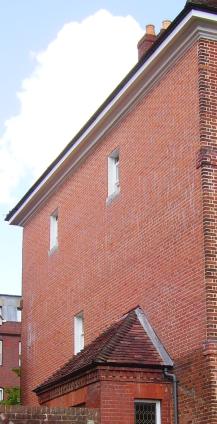 I have done a bit of repointing and if I was an architect based here, I'd be particularly peeved having to pass through this example every day. Whether the string course on the front , is tiles, unknown but main tiled wall is the left flanking.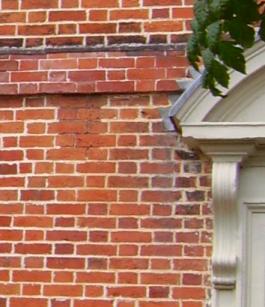 Showing the rear face brickwork obviously not tied in to the side "brickwork" as tiles, and some right edges of tiles showing at the left of a window reveal.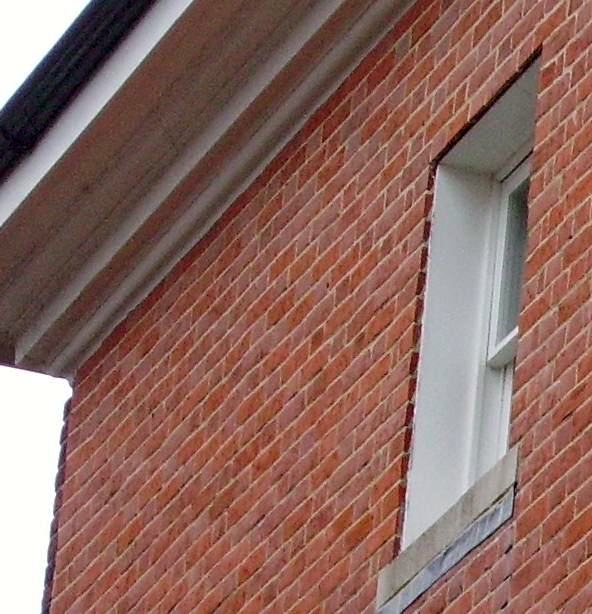 Again another window reveal.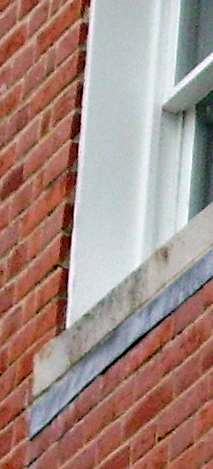 In 2016 it was reported to me by a Winchester local there is another example , 15 and 16 the Square Winchester, London Camera Exchange and Harringtons hairdressers next door.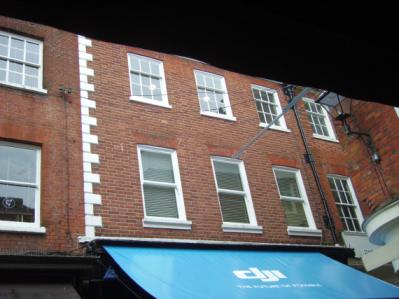 Awkward corner to take pics without a wide-angle lens and all the shop canopies and overhangs. Note the checkerboard pattern of presumably mixing old and new extruded? tiles in a refit sometime.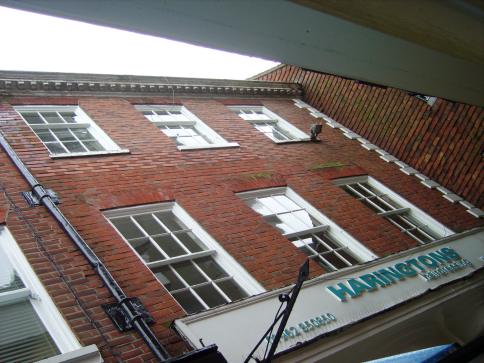 The defining shot, courtesy of the occupant allowing me to hang out and photo through an open upstairs window. Also shows the dentillation.



I hope the white painted quoins are made of now warped wood , as you can see the faux-stone is not fully fixed to the wall, shadows showing under the wood panels.



Chequer-board effect again and note the metalwork fixing of the floodlight which would usually be fitted to brick walling, here fitted to a window sill.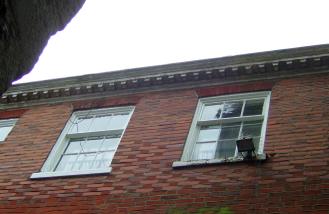 Street level evening view of the signature edges at the window reveal of the camera shop, disguised on the next door ones, and the very rough "brickwork" around the downpipe.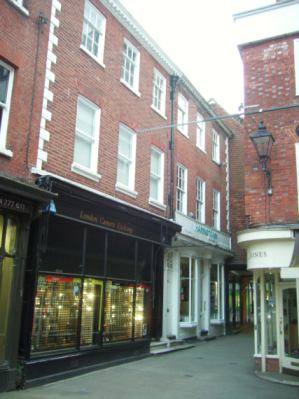 A slipped tile from all the pallaver of trying to fix a vintage metal downpipe to a mathematical tiled wall.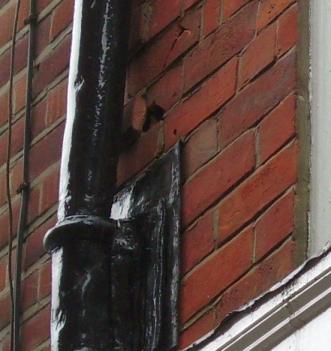 A new discovery associated with heritage week 2017. A new build health centre at 15 Hyde Street front and rear. I'd passed this building , with close street-view inspection , but not noticed any signs of MT. But the "brickwork" looks too good and being a Saturday I took a closer look. A strange flying roof to the porch pediment. A distant inconclusive clue, non-interleaved "bricks" facade with the adjascent brickwork.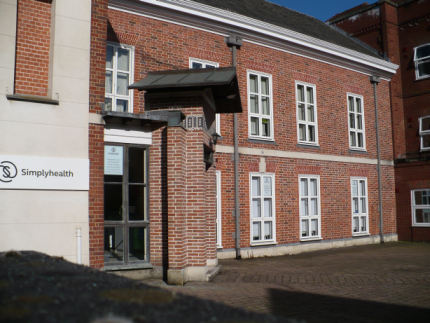 rear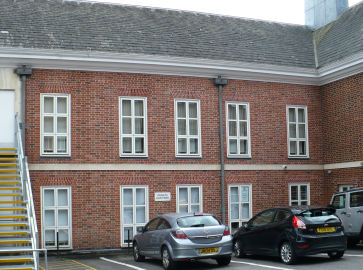 The most conconclusive signature, a small run of deliberately? unpointed join at the lower right corner, also showing the mastic filled disjuncture withe adjascent brickwork.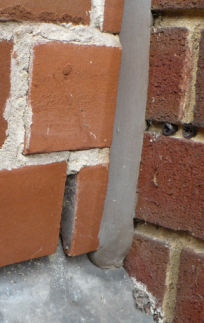 There are a few marginal tell-tales of the start of the upward "tick" of the internal angle, showing in a few window reveals, green arrow. Pic shows stretcher, header and queen-closers.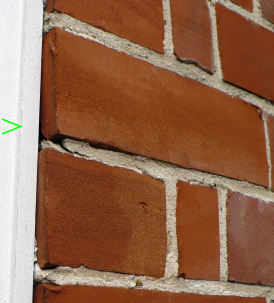 Exposed lower edges at the porch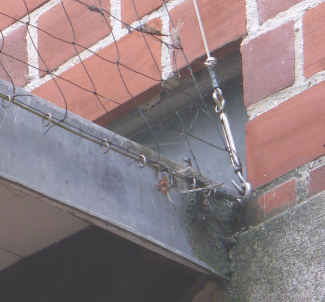 A possible other Winchester MT site , needs a watch , no defining signs seen so far. Toscanaccio , Parchment St, with 1804? escutcheon, very non-brick looking bricks at upper level and wonky chimney. I'll try an over-exposed pic of the hopper surrounds sometime.

Romsey

There is an internet reference to the Natwest Bank in Market Place , Romsey having mathematical tiles, but I saw no evidence of that. Prior to coming across the Brockenhurst example I'd only seen vertical co-planar forms, but on a cylindrical surface?. Perhaps before the renovations in the 1990s, about 1992, when it was the National Westminster. I suspect someone has confused Market Place and a bank , with the Old Bank House, Market Place, Ringwood, see below. As a followup I got talking to someone who had done full academic research on mathematical tiles and she said the curved sections of the Romsey NatWest bank were tiles. Implying the rest was brick, but if that is the case then there is a perfect colour match between tile and brick , which I would have thought was next to impossible. I suspect there were mathematical tiles there up to the early 1990s "renovations" , I'll try and find a good resolution pre-1990 pic. Now the curved section is probably just slightly curved brick slips , so colour matching the rest of the brick.
A return visit to Romsey and I think I've changed my assessment. Firstly why are the flag-day flag pole mounts fitted to the 2 inch width of wooden window frames and not the more usual fixed to the wall, over a much larger area, and to brick for strength.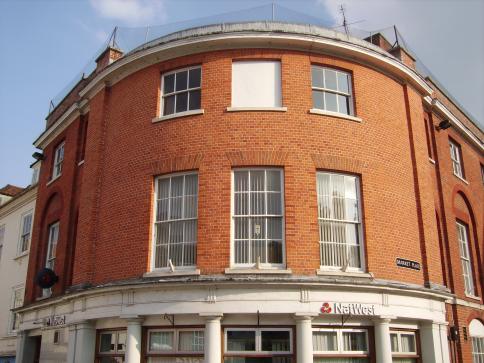 From the archives , this pic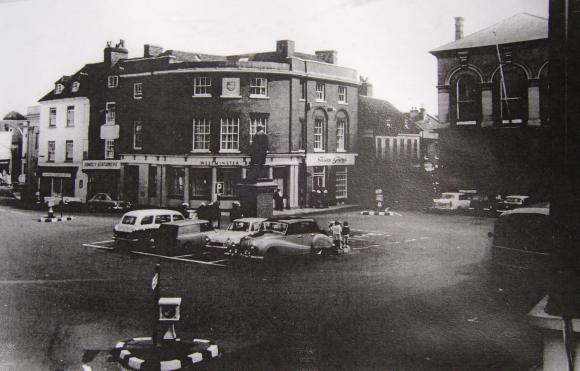 Must be after the 1965 conversion of the Romsey postal sorting office to the Westminster Bank (the bank escutcheon/emblazon still in place at the upper level, empty white square now), no mention of tiles in the building plans of that time. The oldworld street furniture , shop names , car types , and carparking around Palmerston would narrow it down. But now grade 1 evidence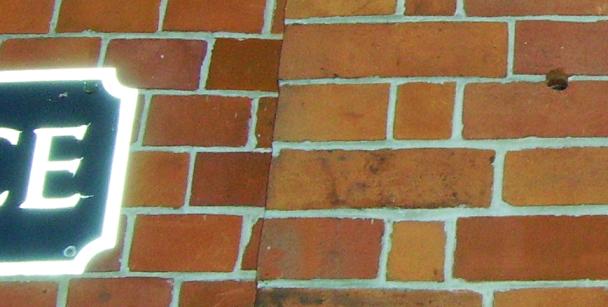 I don't know what they are , a few such core sampling holes in these tiles. This one (of about 4 in total , one per bay )near the Market Place sign, made by a building conservation officer? To sight from the pavement, at an angle , 8 foot below this hole, about 14 foot above the pavement, you can see a band of white in the hole. If this were brick then no band of white , from the bedding layer of putty, should be seen at that upwards viewing angle. With the assistance of flash and placing the camera on a tripod with extended but closed legs and all held aloft ,on 10 second timer Upper right , and now as at about 45 degrees instead of 60 or 70 degree , upward angle, and closer it looks as though the corer touched/punctured some dark grey backing material,lead?. I wonder if the owners know that. Another camera trick for taking such pics as these, often pointing upwards and then how to frame , in zoom , when fixed to a tripod, so bringing the view too low to see some features in window reveals etc, but you can see by eye. Make a tube extender to the tripod. Find some bolts and nuts of the size for camera mounts. Find some metal tube and hotmelt a bolt into one end. Cut and flare the other end , to take a nut and jubilee clip around it. Then make an adaptor so the camera can tilt at about 45 degrees and also 90 degrees. Melt a nut and 2 bolts into a block of plastic and hotmelt around, the bolts being at 2 different angles, and some pads of rubber to take up a length of the bolt and brace the camera base. Even so cannot be used in stiff wind, despite 10 second delay on shutter. I've been known to get on a bus for one stop to pass a building to check out from the top deck of a bus. Back from the aside. This area of "brickwork" is in fact mathematical tiles, that band of white putty, of the bedding plane, in the upper part of the hole and only 5mm thickness of front face "brick" . Similar white bands , by sight, for the holes in the curved bays but as a bank , in operation, I did not fancy jigging around with extended tripod and flash in the window areas. Also in that pic external right angle mathematical tiles on that pier, which are rare also. No internal right angle ones though, in the return face of the middle of that pic, just butted tiles and closers . The tiles on the Natwest bank were placed by the (late) David Cox of Romsey mid 1980s with R A Ablett builders of Romsey. From his widow, he had to go on a list of registered Mathematical tile experts,that then only had his name on it, before he was allowed to touch them. Otherwise he had worked on churches and old house renovation. She did not know of the name of the supplier of the new ones, but does have one of the mathematical tiles made for the Natwest bank job, Romsey and remembered there was some sort of logo or impressed name or something on the rear . By comparison a similar coring hole, but lower position, in Cranbury Terrace Southampton, one of about 3 on that building.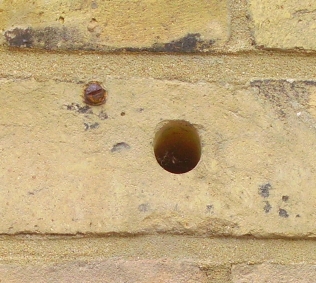 Such yellow brick of the Southampton one could easily be "Hampshire Brick" or (County of ) Southampton Brick, types of mathematical tile that are yellow (New Forest clay) but called white. These are not cavity insulation holes, they are stopped an inch in, but why not plugged with colour matching putty/mastic/mortar? 2017, after my talk in King John's house , a few of us walked down to Middlebridge and the Natwest. ( The mathematical tile in King John House museum is thicker and heavier than the Havant stringer example). Somone with better eyesight noticed something odd about a central tile in the panels of tiling between 2 pairs of first and second story windows. The builders plus one has "signed" their names. Enlarging vertical scale by x2 undoes the foreshortening from veiwing 25 foot beneath. Actually on a header, although foreshortening makes it look like a stretcher. Looks like John Bull stamp pad with 4mm wide rubber block letters, impressed in the leather stage clay. As impressed a bit skew, the top edge of the letter carrier is present. So top row is more recessed than lower edge consequently. The builder was R A ABLETT of Romsey, presumably the top row, with only the tops of the letters showing. "G Bradshaw" was Gordon Bradshaw who oversaw the works in 1992, not the tilemaker. Sometime i'll try again with elevated camera on an extending monopod now I've a camera with gyro-stabilised lens servo. Top image, as on camera and second stretched and contrast etc varied.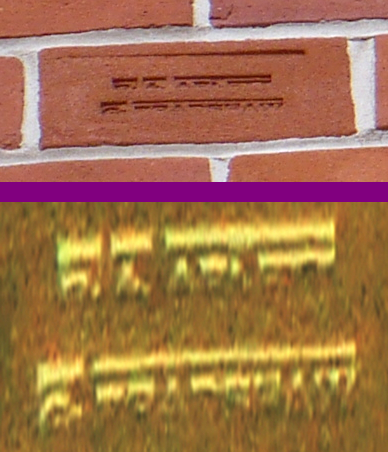 Perhaps what is on the tile that Barbara Cox has. Also in close up the window arches , have the texture of moulded brick rather than the extruded appearance of the tiles.
Modern mathematical tiles in a shallow course of 3 "bricks" at the front eaves area in the conversion to Romsey Library, to get over an awkward disjuncture according to a Test Valley buildings conservation officer. Presumably slipped off unstuck tiles on a left edge of a MT string course 3 deep, under the eaves.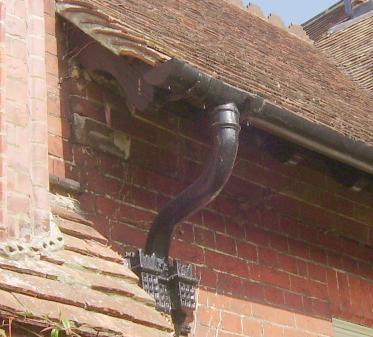 Stretcher tiles over headers. 3 strings of MT and the top string angled over, here 5 + 1 still in place and the others having dropped away ,seemingly, leaving just 2 rows. The top flanges , the "fourth" row show the fixing holes, but seem to have been spot glued in place, or not.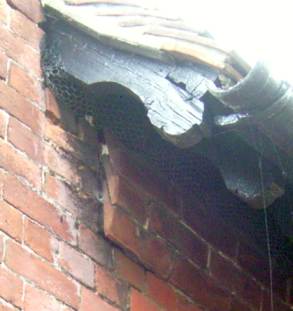 11 Middlebridge St, Romsey, unusually a terraced house, perhaps jettied at one time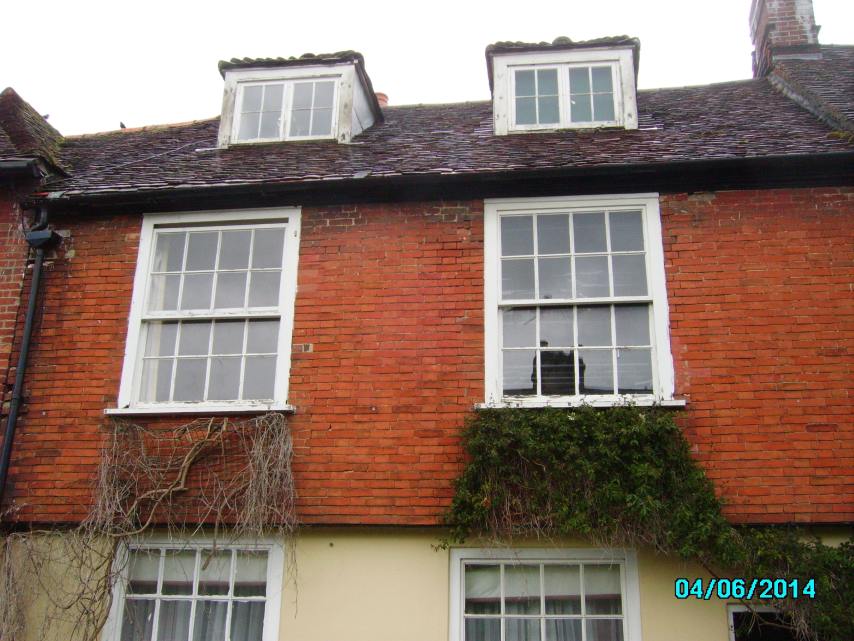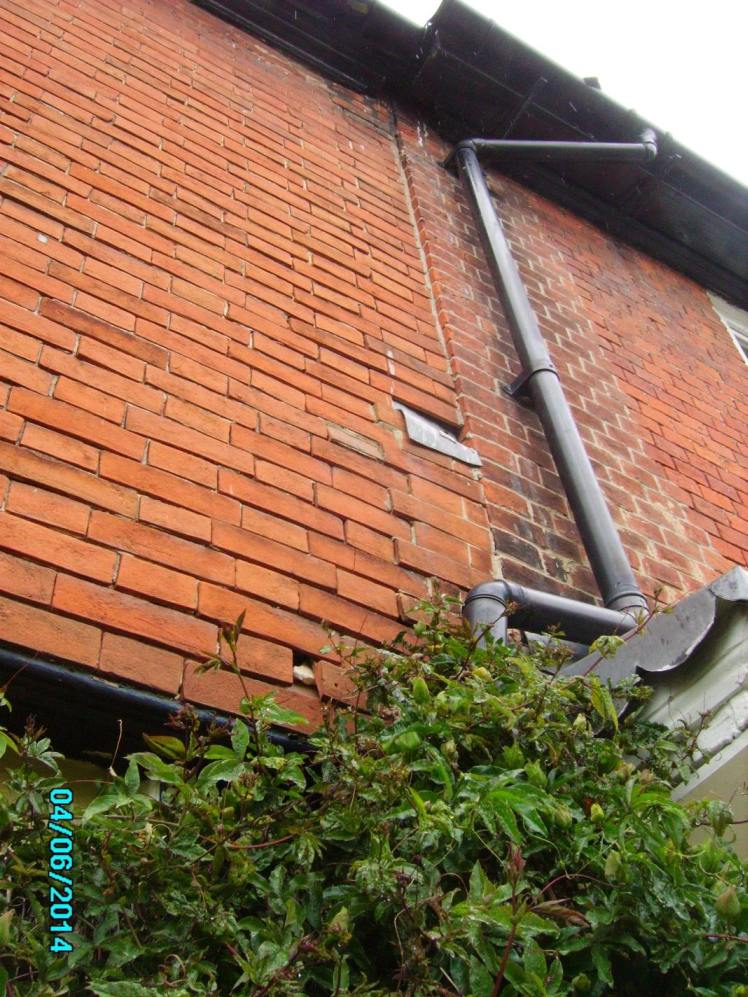 Sheet of lead replacing a missing one and one missing/broken/misplaced below, showing the tile side section.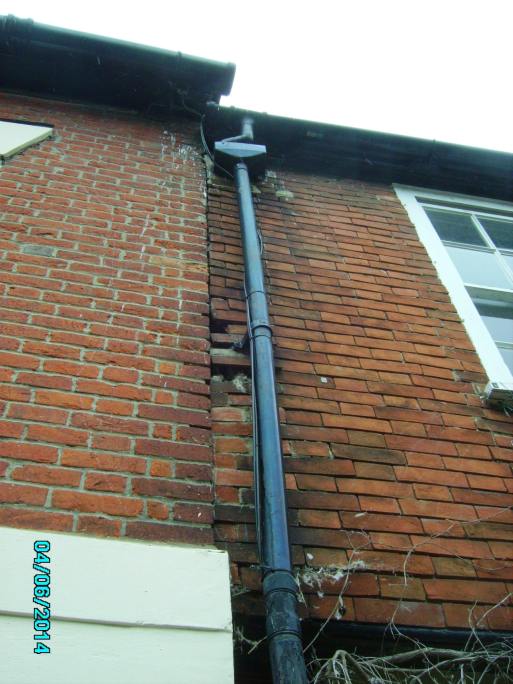 Trying to fix a plastic down-pipe to something that is not brick
While in Romsey, view the Tudor geometric wall painting in the White Horse, Market Place. Go into reception off the carriage passageway , ask to view, and it is in the bar just opposite the reception.
Brockenhurst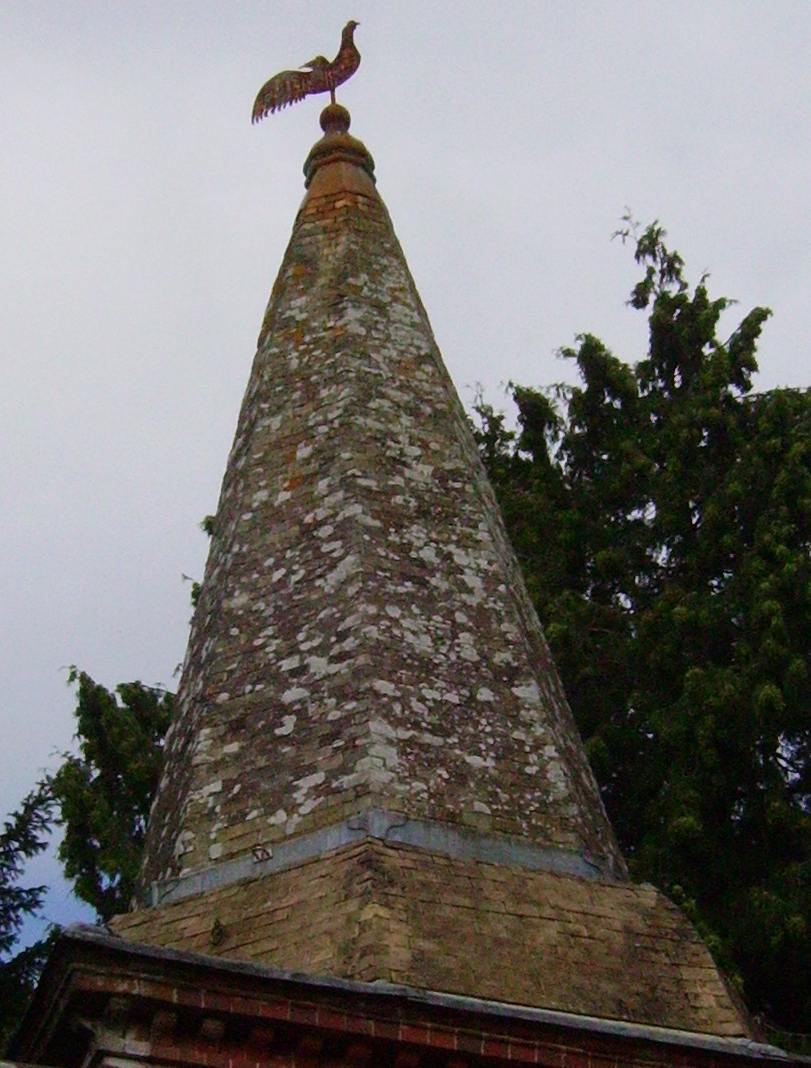 Brick tower base and then mathematical tiled spire to St Nicholas Church. Note there must be variants of the angled quoin tiles as the pitch varies not only between the spire proper and the tiled base , but also within the base itself. Only one type of corner tile made so part of the base does not have matching corner tiles, they bulge outward.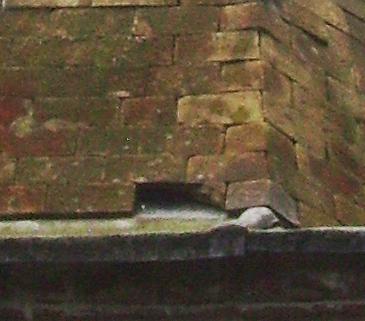 One missing tile about 30 foot up at the base of the tile spire, lead sheet showing close behind, not brick deep. If there had been no missing tile then I saw no other signature of being tiles.

Ringwood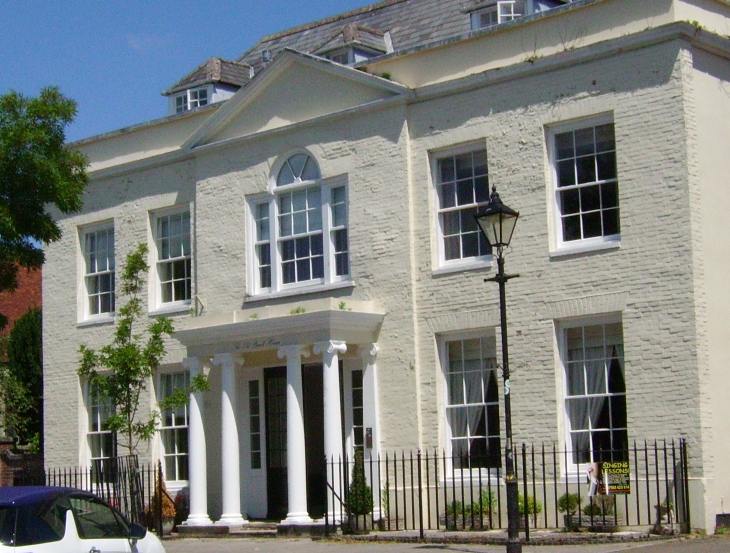 Old Bank House, Market Place.



not so clear cut. Otherwise very poor "brickwork " not coplanar, probably multiple "bricks" per tile as there is sometimes a 2 "brick" repeat of the irregulatity, centre of image, proud, recessed, proud, recessed, proud, recessed.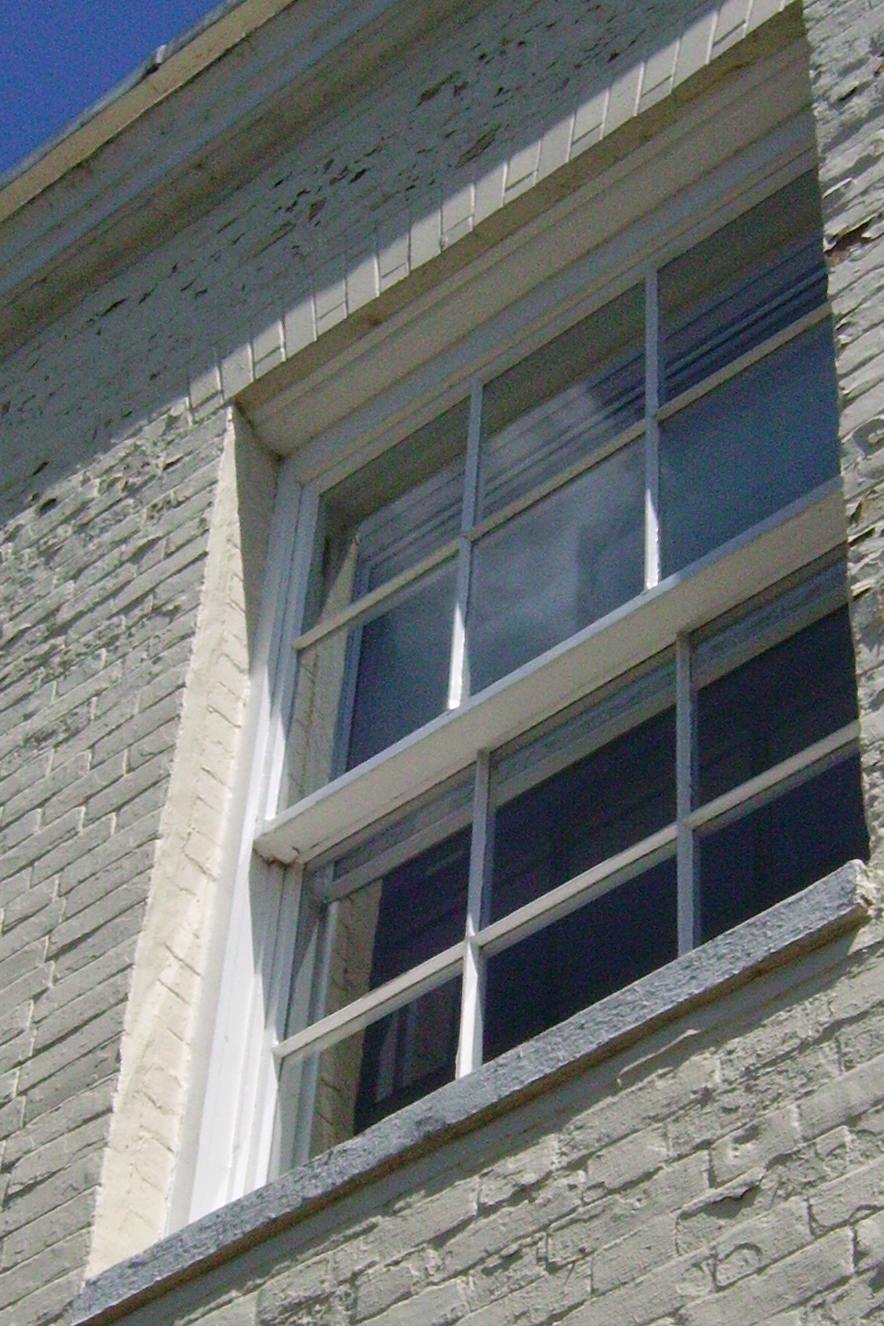 The tile heights are not the same as the brick heights in the window reveals and go out of sync. The obvious overlapping on the tile edges is disguised here by a smear of mortar, the lintels are perhaps pargetting sculpted to look like vertical bricks
Hints of underlying tile edges on the left hand corner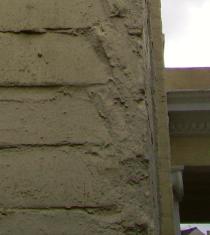 Much better evidence, right hand edge, camera on the ground , looking up, so lower tile edge uppermost in this image and hollow behind.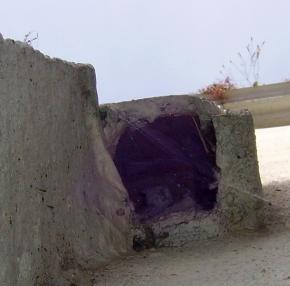 St Nicholas house (Debra Charity shop), Market Place, Ringwood, built by the Castlemaine of the railway company.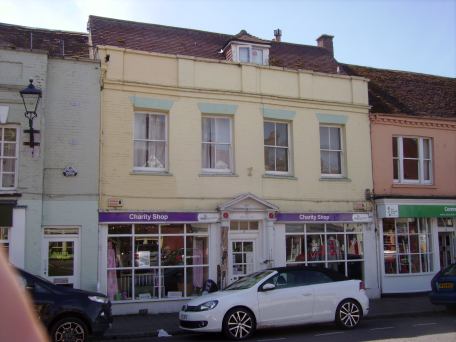 Impossible to see by eye, and very difficult photographically. Not quite Vivian Stanshall and my pink half of the drainpipe, but hidden by the pink drainpipe of next door. Just observable a few edges of the mathematical tiles.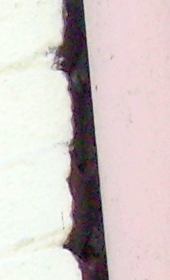 Luckily my visit coincided with some repair to the segmented wood of the portal pillars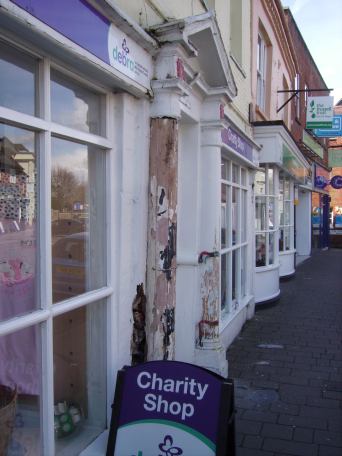 And inside the hollow of that wood some rubble , but not of bricks but mathematical tiles, the wedge edges could be seen.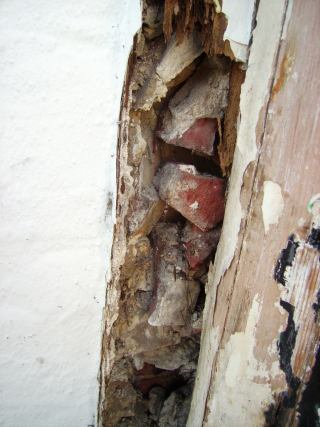 The left edge and top of fair face ledge showing of one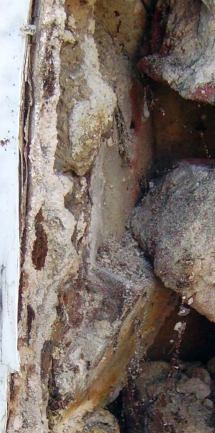 Edge , front fair face, top of fair face ledge and hole in the working face showing of this one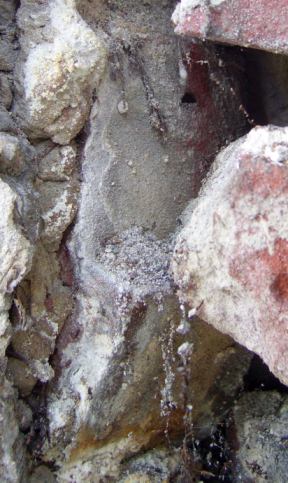 The edge and fair face of another, a punk of wood covering the working face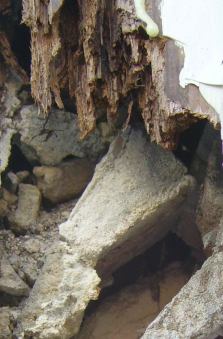 Mansfield House, Southampton Rd, Ringwood

On much firmer ground with evidence. Originally noticed this building and trigger points, passing on a bus. Appropriately Southampton brick tiles in Southampton Rd. Lower tiling sounds hollow.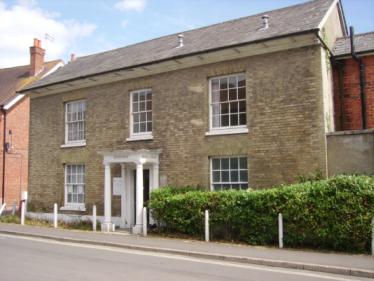 One reveal showing some tile edges, other reveals are finished with corner tiles.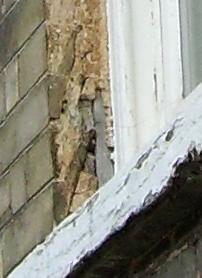 A broken tile on the right return section.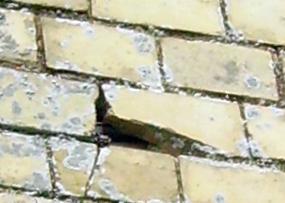 A slipped window brick or tile+brick combination perhaps, as there could be joins showing underneath or perhaps colour change from , now gone, under-support.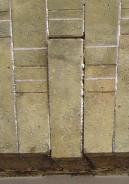 Hints of underlying tile edges at the left return edge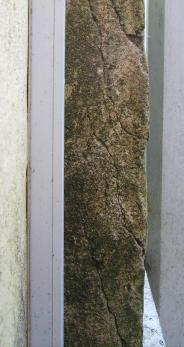 A now greyed spalled tile showing the bright yellow core and perhaps a grey intrusion that caused the weakness.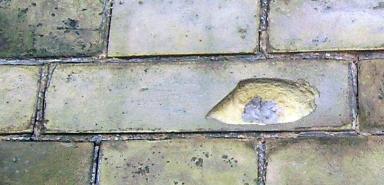 The right side return , right edge , the sloping internal face of the tile second up, catching the sunlight as it is protruding beyond its covering tile.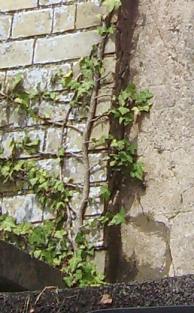 Another possible MT example in Ringwood, not checked out but passes over by me in previous general street inspection, is on the south side of Market Place, Brewers and debra, 4 upper windows and a parapet? above

Lymington
The camera is not lying , some examples do have a slight pinkish tone , otherwise yellow, similar to some of the "harlequin" tiles of the Salisbury Arcade example below. 3 yellow architects colours 2.5Y8/4, 2.5Y9/3, 7.5Y8.5/4 and 2 pink 7.5R8/4 ,5R7/8, for these Lymington ones . This is not a recent retiling from the manager and also from the age of the wisteria, so perhaps colour variation/leeching/efflorescence over time. But after the introduction of pozidrive screws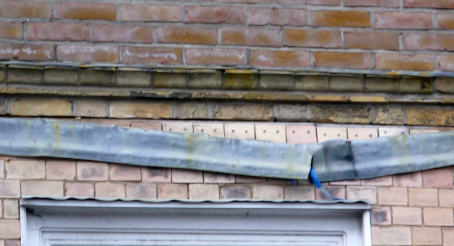 2 screws per tile, revealed after wind pulling away flashing October 2017.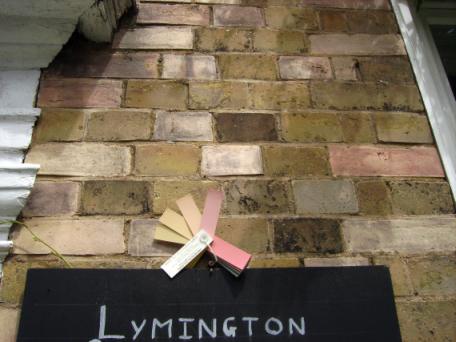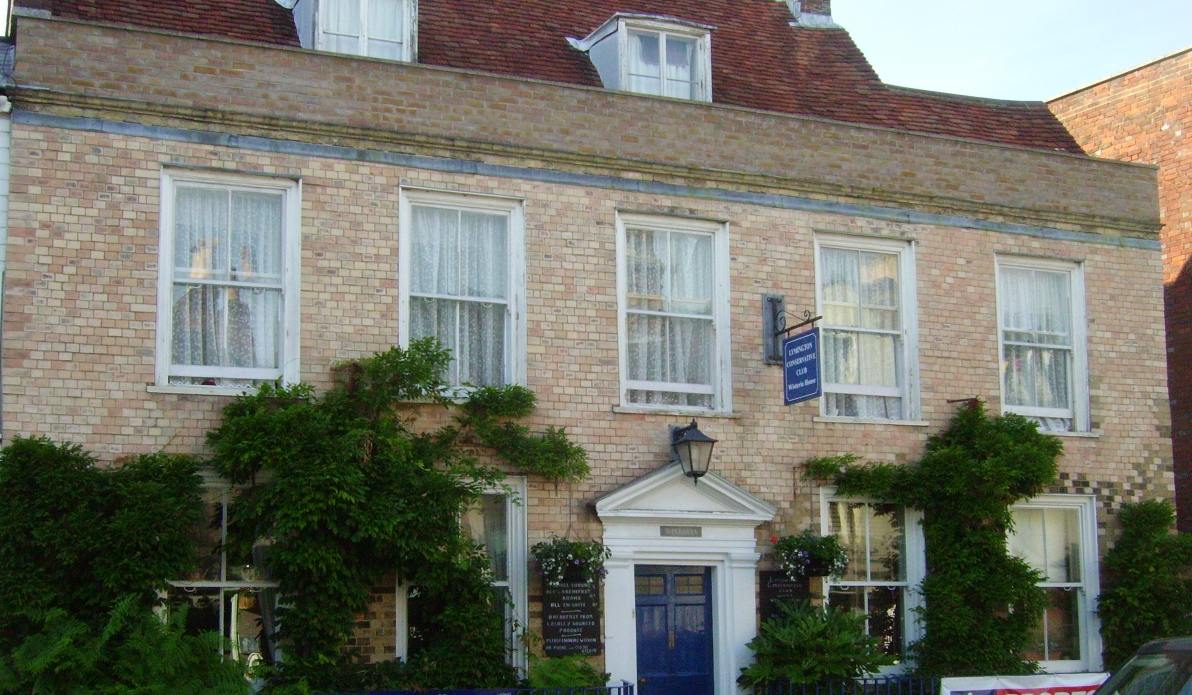 Wisteria , St Thomas St, Lymington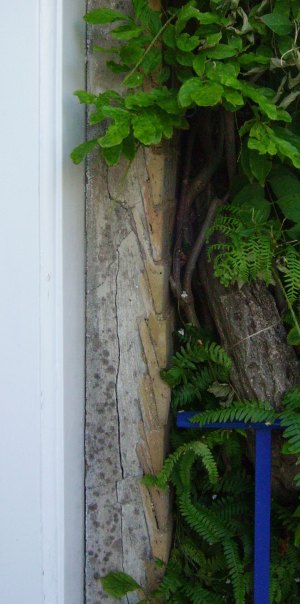 Convenient camera height of the tile edges.
Thoughtful ways of dealing with attaching heavy ironmongery against MTs, the lamp and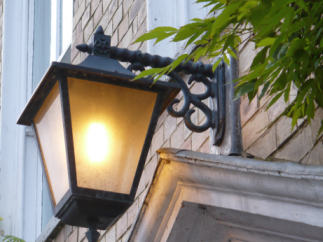 the sign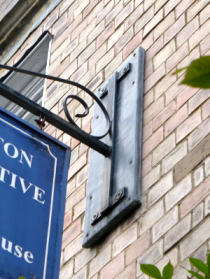 looks like a wood panel covered in lead sheet , screwed through the tiles into whatever is behind the tiles, then the ironwork screwed to wood block
East End
East End House, East End, south of East Boldre 50°45.841'N, 1°29.217'W . I've included this possible siting again as a thatcher working in Pilley told me about a house in East End as having MT, presumably this one, had been rebuilt.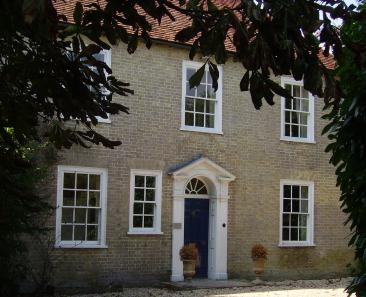 No definite sign of math tiles seen on this east face, or what can be seen of the south and north faces, perhaps on the non-public west face.

Hythe

Prospect Place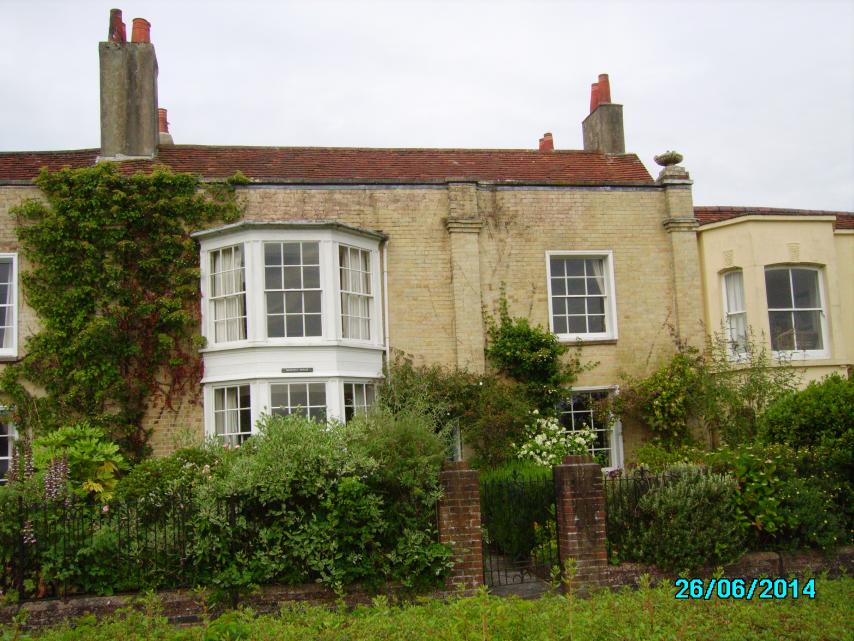 The missing "brick" tell-tale in the first image below. Numerous problems in the second. The third , the south elevation a whole section come away and then below the V a vertical series of partially lifted tiles showing a 2 "brick" repeat pattern, also evidenced as a colour change repeat every second brick elsewhere in the images. Perhaps wrong spacing leading to one working face being pitched outwards, so the overlaying tile working face is pitched inwards, alternating upwards.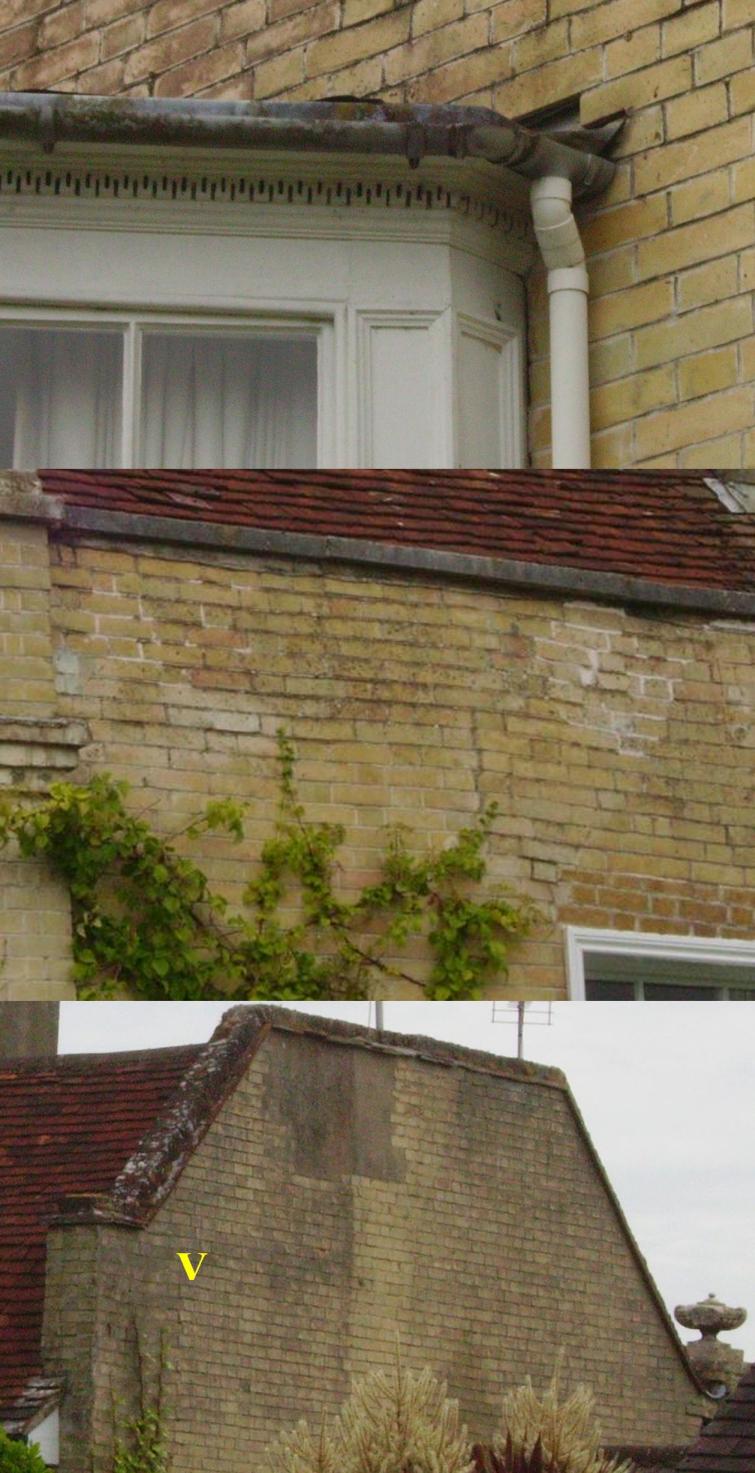 Stonehill Farm, Fawley in the shadow of Fawley Power Station chimney. South face is normal hanging tiles. From the owner, the house was originally part of the Cadland Estate and he was told by the previous owner that all the tiles had been removed, numbered and replaced in the original posistions.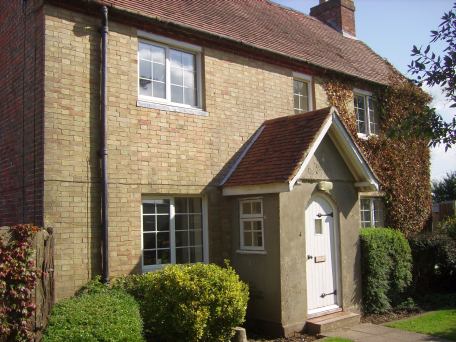 Close up of the left hand of the front west facade and tile edges exposed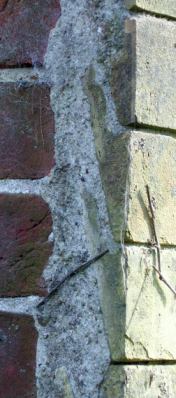 The underside front edges at the top of a window reveal. Did not check to see if the blistering is from pealing paint or failed glazing coat.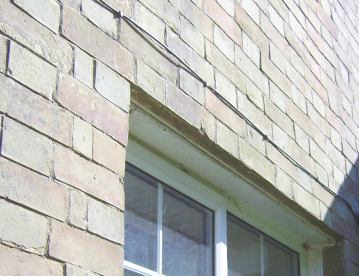 Nearby also in the shadow of the power station, included here but probably not tiles, Ower Farm. Although distressed surface , only one hint of tiles and that could be an optical effect in the camera.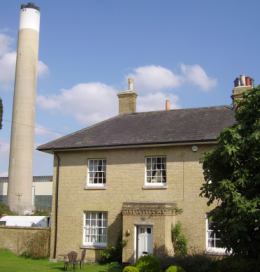 Hint of black line under a possible lower edge of tiles , high up.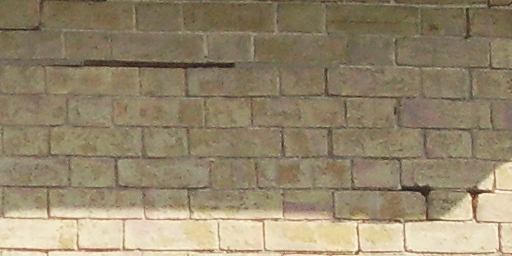 Christchurch , Dorset

11 High st, is supposed to be mathematical tiles. Shallow reveals, edges rendered over and no repeats patterning seen.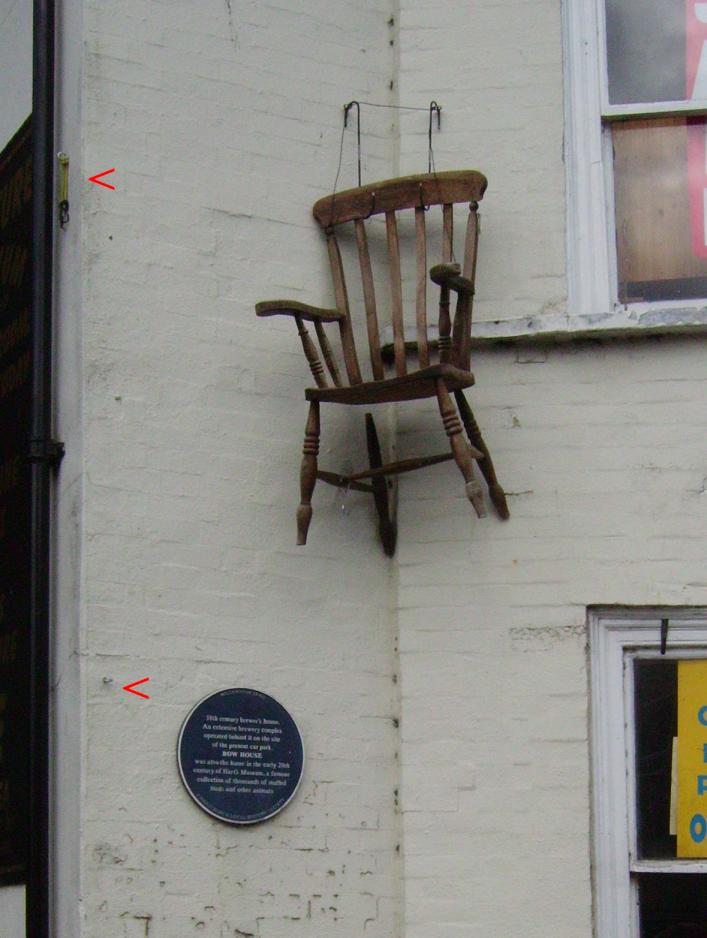 Survived blue plaque hanging, and screweyes marked red<, and those for a chair , broken itself, but not recently any of the tiles from wind blowing the chair about or elsewhere. The paint is obviously disguising a lot of missing tiles, patches of rendering under the paint.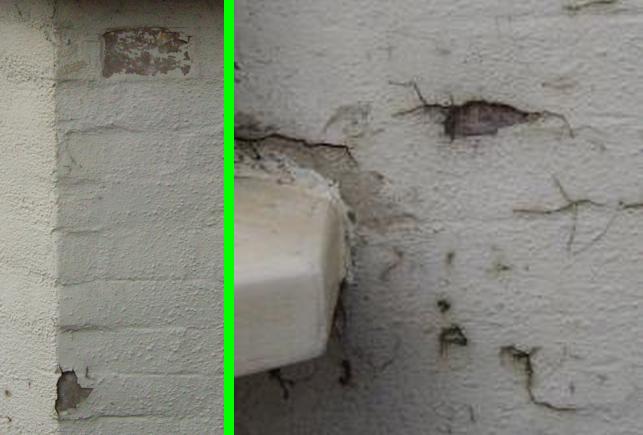 The colour of the tiles under the paint, unless some sort of primer, seems to have been grey

Alton

Lasham House, Lasham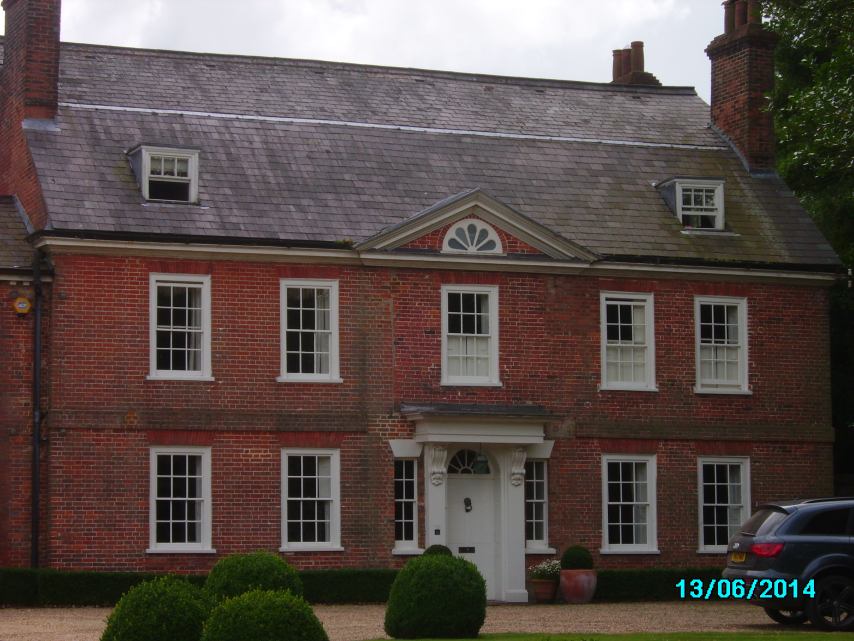 the front some distance from the public road, but around the side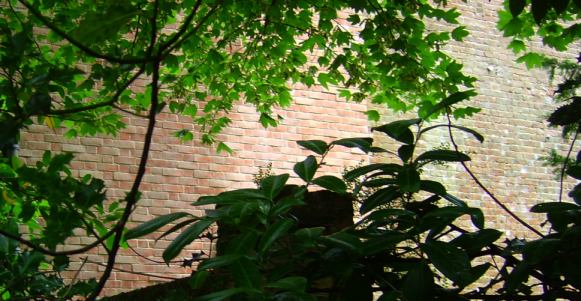 probably tiles on the left section and brick on the right
No 1 High St, Alton (probably, number 3 is the travel agents to the right , then the museum complex, then this house with no number and next to it 1a in the cut to the left of it). Rendered frontage but to the side next to the museum , tiled elevation.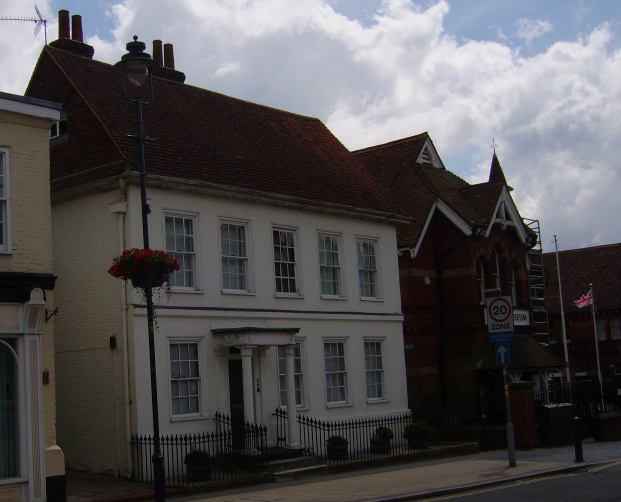 On the rear edge marked with red < you can just about see the angled sides to the tiles, abutting brickwork to the rear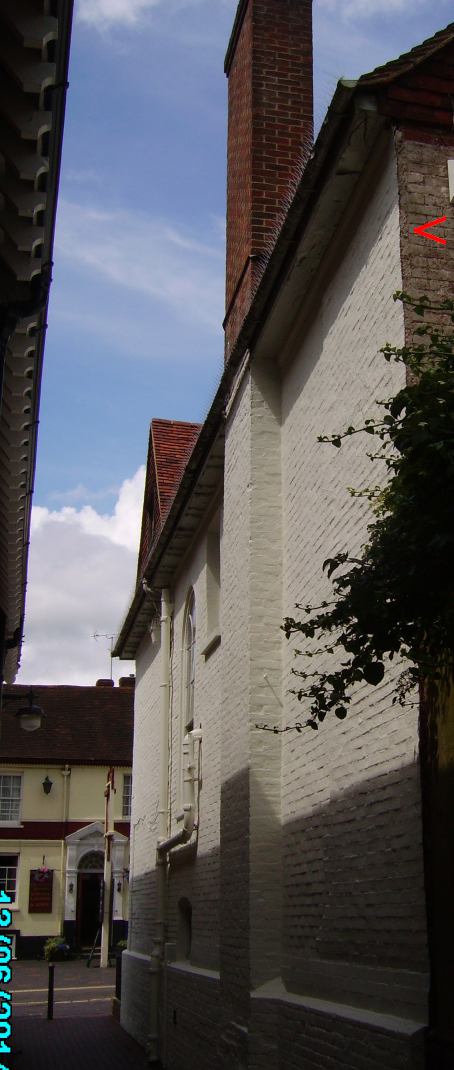 close up of an edge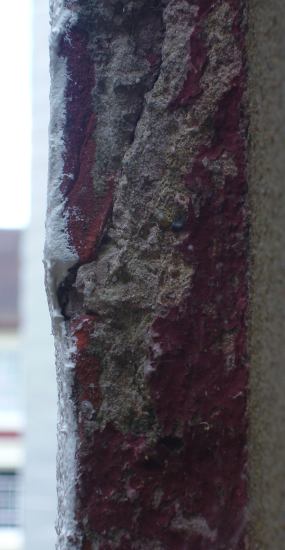 close up of where a soil pipe outlet has been punched through a tile overlap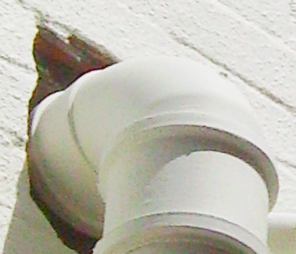 There is a Hampshire Mills group pic of mathematical tiles, probably this wall a few years earlier and less paint , not a mill.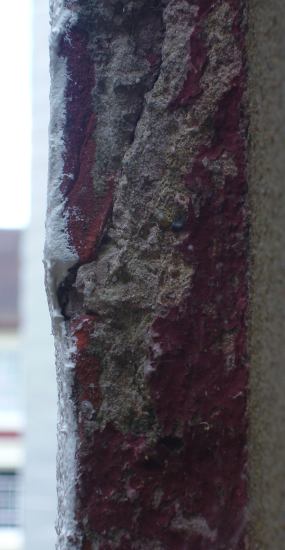 Possible further example , 2018, in Alton high Street, Number 12. Empty and up for sale so could tap and the left section gave the hollow sound but otherwise no definite visible signature. http://www.diverse.4mg.com/alton_12high_st.jpg , other than if it was brick , you'd be concerned about structural integrity http://www.diverse.4mg.com/alton_12high_st_b.jpg

Chawton

Jane Austen house, Chawton . Incidently a lot of masonry bee activity in evidence, must be the right sympathetic lime mortar.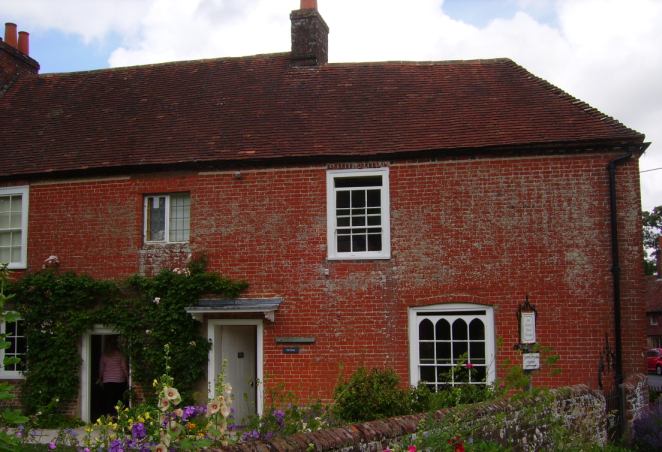 Right on the principal corner on public view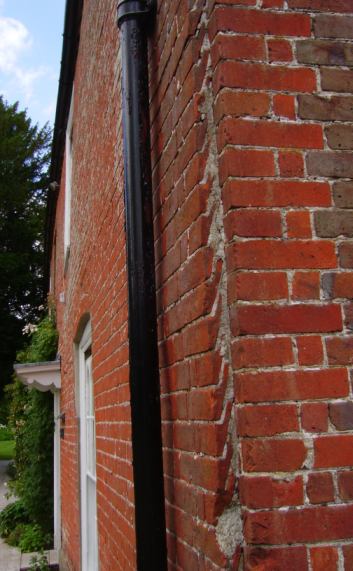 and a close up of the edges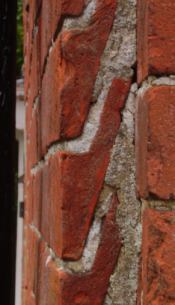 where some are slipping at the most susceptible place, the lower edge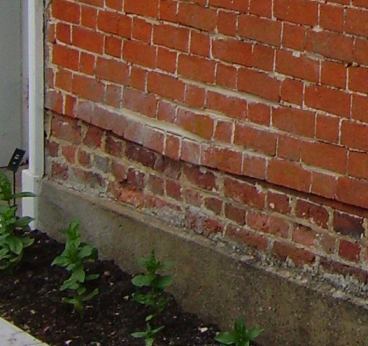 A revealing reveal, the top showing lower edges and the "sill" made from the internal slope face, verticals are rendered/plastered over.




Selborne

Goleigh Manor,Goleigh Farm Lane, Selborne. Too far from the public road to see if mathematical tiles anywhere.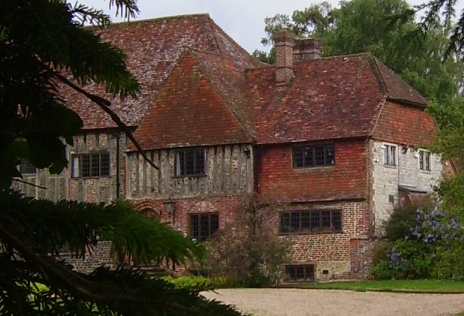 Swanmore
A tip off from someone who was certainly aware of MT, to there being an example in Droxford Rd ,Swanmore, near the extensive orchards for fruit juice. If Hill Place or any of the other nearby old houses, then on the private side of the building. Nothing observed on the drive-way access side of Hill Place or from the road viewing of Hill Farmhouse, Uppper Hill Farmhouse or Hill Cross nearer Cott Lane. Pic of Hill Place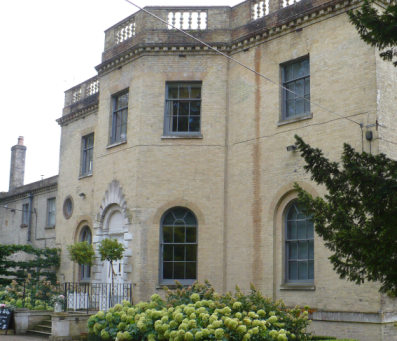 What is the reason for blanking off the symmetrical fellow of window , on the right of the porch in the main pic, retaining the arch, on the south side of the entrance or nearby blanked off porthole window. ? Pockmarked "distressing" to the coloured mortar? faux brick or tiles, and salvaged? not wire-brushed blackened chimney bricks, no idea why or why the mortar spattering thereabouts. But nothing that would be a signature of mathematical tiles, just all a bit odd. Perhaps my informant saw this area immediately after a gale, since bodged up, or a southern aspect with them. If MT over the complete facade then it would require left and right external corner tiles and Brockenhurst-like 135 degree corner tiles of left and right staggers. A pic on pippaheath.com shows one of the southerly faces with an anomaly of vertical disjuncture to the left of a facade plus more of the black brick/"brick", requires an invite to a wedding reception to check out.




Droxford

St Clair's Farmhouse, Wickham Rd, Droxford. The owner kindly let me take some pics. Some had fallen off in the 1987 great wind. NE elevation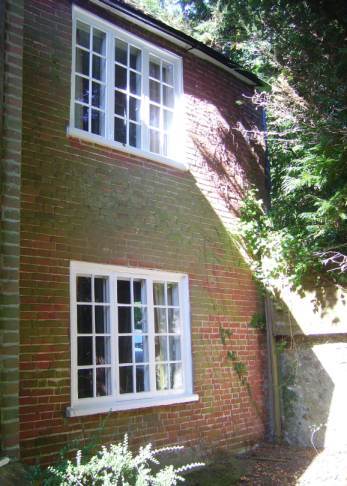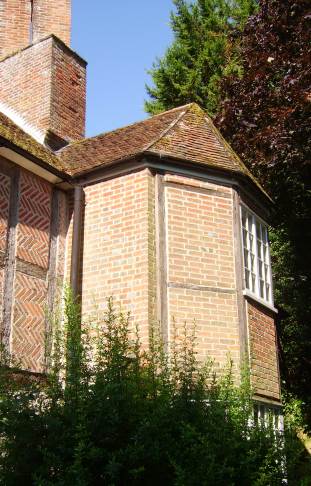 Southern elevation showing a slipped one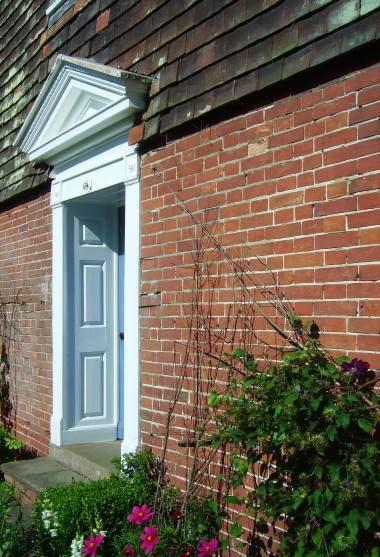 West edge of southern elevation showing tile edges, over a brick lower section.



Hambledon

East Hoe Manor, Soberton. Near Litheys Hanger, set back from public area, with haha. South elevation


East Elevation


West Elevation (camera problem , split into 2 sections)



Petersfield

18 Sheep St, upper level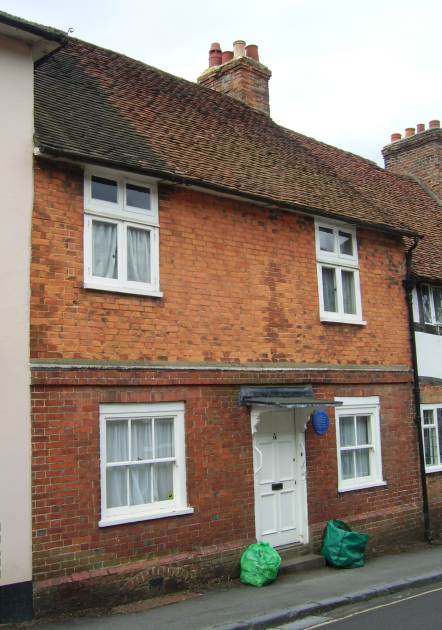 A spalled? one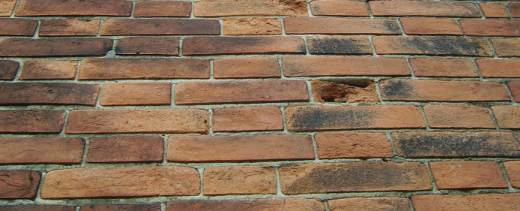 A bulging section at the top right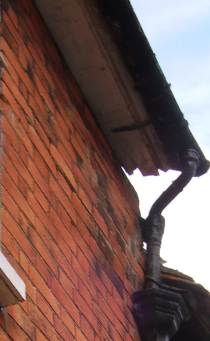 Broken one showing the underlying tile and shallow mortar course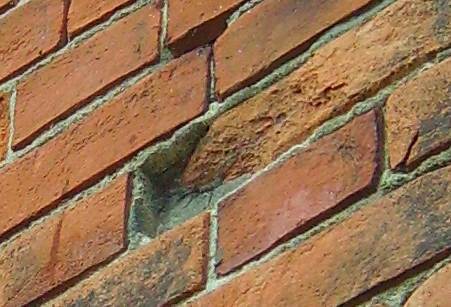 17 College St, Fir Cottage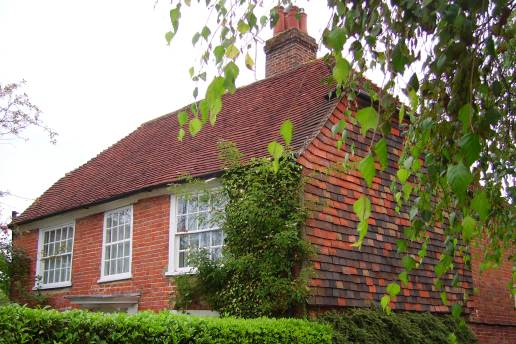 South Harting

Straying over the border into W Sussex. The Old House, The Street, next to the White Hart pub. Wisteria would seem to be compitible with mathematical tiles, see Lymington, the owner of the Old house makes sure it doesn't start to grow under the tiles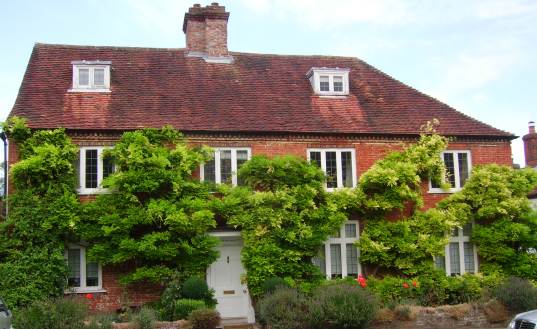 The telltale edge to the right flank.



showing the dendating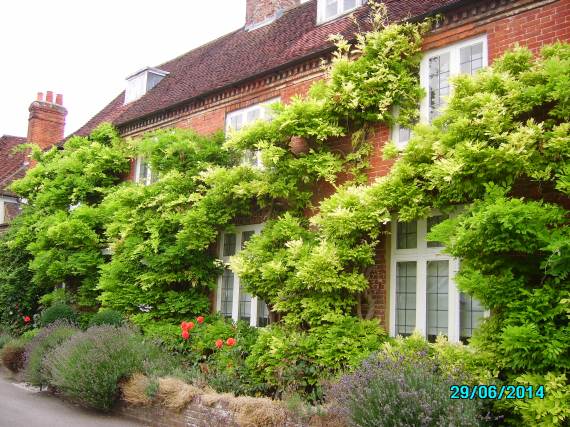 showing the fineness of the "brickwork" , narrow pointing/grouting and high degree of coplanarity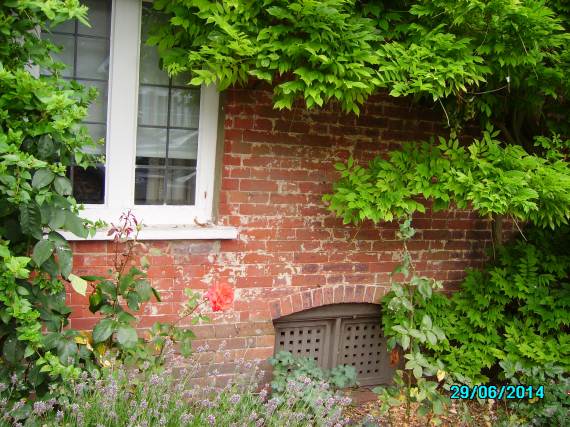 Havant

Davies the Chemist, 8 West St, Havant. The owner is quite happy to talk about technical aspects of the tiling. The builders were in at the time of taking the pics. They had maybe discovered evidence of the great fire of Havant, 1760, a layer of ash and melted lead but also contained slate, 2015 suggestion this was the result of a later smaller fire to the side of the building.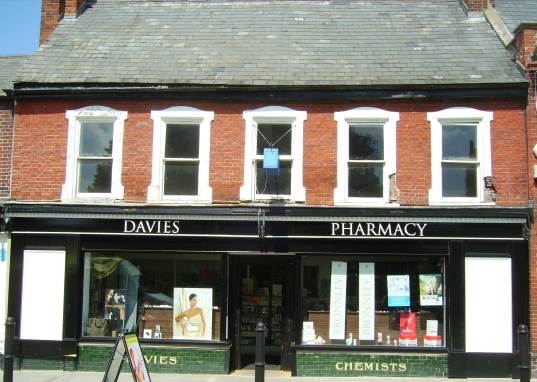 The pargetting/stucco has fractured and come away in a number of places, taking some of the tiling with it.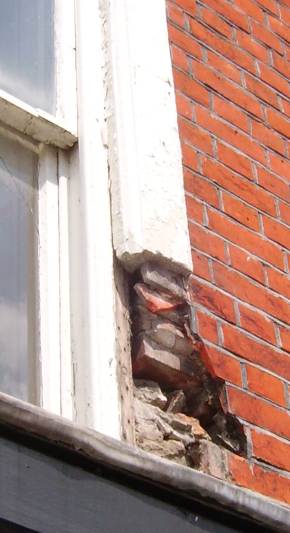 And again, showing some of the dendate work under.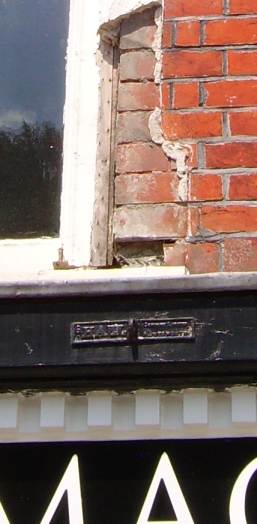 Late 2015 , after renovations, this is the only positive clue to MT on the front. On the left of a window surround, the lower edge of a tile esposed.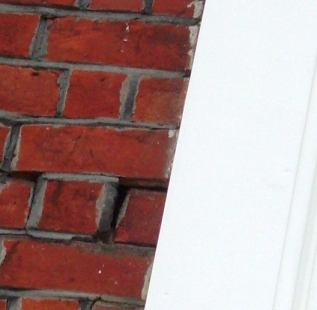 It is likely the flanking wall is also MT, shown in the 1850s pic below, before the second story was built , making part of that external wall , an internal wall, on which there were still MT in 2015 and still evidence of where the original pitched roof of that single story building in the pic below, was 1855 or so. So those side tiles were earlier than 1855. Sometime I must have a go at this test http://rspa.royalsocietypublishing.org/content/early/2009/05/20/rspa.2009.0117 "Dating fired-clay ceramics using long-term power law rehydroxylation kinetics" . I've the kiln and thermostat and laboratory scales. Perhaps the core samples taken by the phantom core sampler of Hants, Wilts and Dorset goes off for such tests, enough material in each core for a test, to get a decadal idea of age.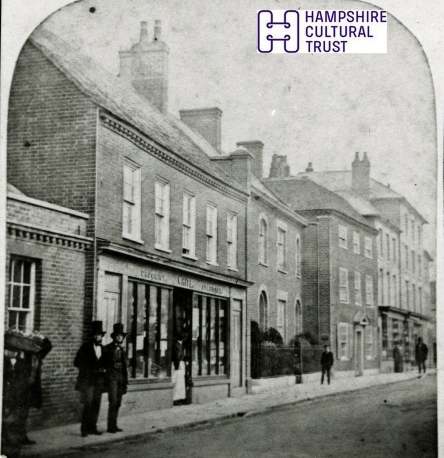 This pic , of a stereoscope pair, may show that main and west faces were MT. Note the sleeve of the lad holding a wicker hamper on his head is in a different position in each image, also the curved masques to the images . Could only be 1850s with those stove-pipe hats, curiously same fashion , same time in the USA. Perhaps the shop then White's was druggist and pioneer of photographic processing, and stationer. Originals indexed as P1993.4 , White's druggist , West St, Havant, held at Chilcomb House, Hampshire Museums.


And while at it, examples of Fareham style swirly slip striped chimney pots, sergeants, corporals, kernels?


And some in old Redbridge, Southampton, between the station and the Ship pub, on the other side of the road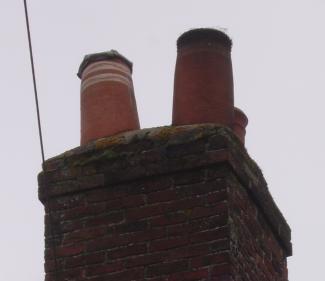 ---
---